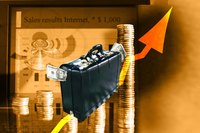 Organizations run into different risks and opportunities as they engage in their activities. They try to assess these risks and opportunities using specific tools. If they are undertaking a project, they may use such tools to determine whether the risks are greater than the opportunities the project presents. If this is true, they may decide not to go ahead with the project. The U.S. military's Strategic Risk and Opportunity Assessment Model (SROAM) and British American Tobacco's (BAT) Biodiversity Risk & Opportunity Assessment (BROA) are two such tools.
Risk
Risk in management refers to the possibility that an outcome will vary from the outcome that management expects. An organization undertaking a project, for instance, runs the risk that it will not be completed on schedule. It also runs the risk that the project will cost more than management's initial estimate. Another risk is that the business environment could change in a way the organization had not anticipated. For instance, market conditions could change, affecting sales of a new product.
Opportunity
Managers also see various opportunities in the environment. If a project is implemented properly, it could add to an organization's market visibility and provide additional revenue. A project may open up a new market for an organization. This could help diversify its offerings and protect it from overdependence on a single line of business. For instance, a manufacturer of plastic knickknacks may decide to also produce plastic dolls in a bid to diversify production.
BROA
BAT's Biodiversity Partnership has developed the BROA tool, which identifies and offsets any impact the organization's tobacco-growing activities have on biodiversity. The tool is based on risk assessment processes in other industries. BAT has modified the tool to suit its agricultural supply chain and its own systems. This approach includes the use of an initial screening questionnaire, after which management enters into discussions with stakeholders. This gathers input about risks that the company's activities will reduce biodiversity. This stage is followed up with fieldwork and corrective action if necessary.
SROAM
The SROAM tool used by the military involves three steps. The first step involves asking questions to identify risks associated with a project. In the second step, managers calculate an opportunity score for the project by asking a series of questions. They then weigh the opportunity the project presents against the risks that they must manage to complete the project. This provides guidance about whether to commit to a project. This tool supplements the decision-making process, and managers use it as one decision-making input.