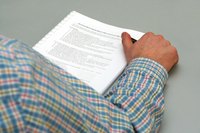 A legal will is one that meets the requirements of the state in which you create it. Whether you admit your will before a probate or other court is not the deciding factor in determining its legality, although the probate court can be called upon to determine whether a will is legal. What makes a will legal differs between states, so talk to a lawyer in your area for advice about creating one that is valid.
Last Will and Testament
A last will and testament is a legal document in which you list your desires about who is to receive your property after you die. While some states do allow for verbal wills in some situations, all states let you create a written will. To be legal, the will must meet your state's specific requirements. These generally require that you create the will while you are an adult of sound mind, sign it and have it witnessed. Some states do, however, allow you to make a will without having to have it witnessed.
Probate Courts
All states have probate laws that dictate how a will must be made and the procedures that courts must go through in probate cases. Many states have specific probate courts that are responsible for handling probate cases, while other states hear probate courses in regular circuit or county courts. While you must bring a will before the appropriate court to determine its legality, the mere act of bringing a will before the court does not make it a valid or legal will.
Probate Procedures
The probate process does not begin until a person dies. Once this happens, anyone with a copy of the decedent's will must bring it before the probate court. If the court receives a will, it starts a new probate case to determine if the will is legal or not, and if so, to distribute all the estate property, a process known as settling the estate. If no one has a copy of the will or a will cannot be found, the court will appoint someone to administer the settling process and distribute the estate according to the terms of state law, not the terms of a will.
Timeline
A will does not take effect until the testator (the person who wrote the will) dies. Until then, the testator can make any changes to the will he desires. These can include naming new heirs, changing the terms or conditions of the gifts or creating a completely new will and destroying all the old ones. The will can only become legally effective once the testator dies, at which time the court must determine that the will meets the state's requirements for it to take effect.