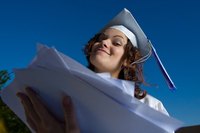 Pell Grants are federal Department of Education funding for U.S. college students whose family income falls within specific parameters. Students do not have to repay Pell Grants and may be eligible to receive one each year that they are in college. Some students can qualify for two Pells per year. The government pays the funds directly to the school to apply toward your educational costs.
Income Qualifications
Pell Grants, unlike many scholarships, are need-based rather than merit-based funding. This means that you don't have to demonstrate a high grade-point average or athletic ability to qualify. The main determinant of Pell awards is your family's annual income. The largest number of Pell Grants--more than 500,000--in the 2007-2008 school year were awarded to students whose family income was around $20,000 per year. However, thousands of students with a family income of $50 TO $60 thousand per year also received Pell Grants.
How to Determine If You Qualify
The reason the income requirements for Pell Grants are difficult to pinpoint is because Pell funding is the foundation of a package of federal student aid that results from each applicant's Free Application for Federal Student Aid (FAFSA) filing. The college funding assistance package may include student loans and paid work-study employment in addition to the Pell Grant, depending on a student's financial situation. The FAFSA calculations factor in other data in addition to income to determine each applicant's EFC, or Expected Family Contribution. Such information as number of dependents can affect the annual income figures. Federal Student Aid calculators deduct the EFC amount from the specific tuition and expenses associated with the student's college choice to determine financial award amounts.
Financial Factors Not Included
Because the FAFSA is a standardized form that millions of students submit each year, it does not take into account such special-case financial factors as a family's high debt-to-income ratio or recent changes in a family's income situation that are not reflected in the prior year's tax return. Some income that families do not have to report on FAFSAs include untaxed Social Security benefits they are receiving and the Earned Income Credit (EIC) from the IRS. These exceptions may have some positive effect on the student's financial aid package.
Pell Grant Amount
The maximum individual Pell Grant award for the 2010-2011 academic year was $5,550. In January of 2011, President Barack Obama announced funding that will ensure that amount increases yearly until 2019 in keeping with the rising cost of living. By that year, the maximum Pell award per individual would reach $6,900.