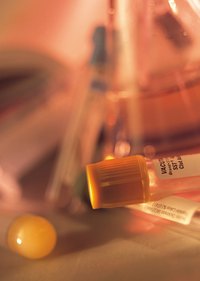 A medical technologist is a member of the staff in research laboratories that investigate diseases, their causes and their treatments. Working under the supervision of a medical scientist, a technologist--also known as a clinical laboratory technologist--performs laboratory experiments, helps to devise experiments to study a particular affliction, and communicates the results of tests to relevant health professionals. It is a behind-the-scenes role, with physicians using the laboratory findings in applications with patients. A medical technologist's monthly salary reflects the skill required of the role, but may vary depending upon elements of her employment.
Average Monthly Salary
According to data published by the U.S. Bureau of Labor Statistics in May 2009, the average monthly salary for a medical technologist is $4,635. This extrapolates to an annual wage of $55,620. The average monthly pay for the median 50 percent of earners was $4,595. The rate for the lowest-earning 10 percent of practitioners was $3,128, while the top strata of earners received an average of $6,330. In all cases, a medical technologist may also be eligible for additional payments beyond her basic salary, such as pension contributions and health insurance, depending on the terms of her contract.
Monthly Salary by Industry
Employment opportunities for medical technologists arise in several spheres of industry, and monthly wage levels can differ according to the one in which she works. At the top of the Bureau of Labor Statistics survey was the pharmaceutical and medicine manufacturing industry, which offered a mean monthly salary of $5,464, followed by positions within the federal executive branch, averaging $5,238 per month. A medical technologist working in a general medical or surgical hospital averaged $4,700 while an individual employed in a medical or diagnostic laboratory was in line to receive $4,580.
Monthly Salary by Locaion
Geographical location plays an important role in defining the monthly wage level available to a medical technologist. The U.S. Bureau of Labor Statistics lists California as the leading payer on a state level, averaging $6,113. Connecticut and District of Columbia offered similar monthly pay packages at $5,246 and $5,209 respectively, as did Massachusetts and Maryland at $5,096 and $5,155. Salinas, California was listed as the single metropolitan area offering the highest monthly salaries at $7,518. In contrast, Athens, Georgia was listed at just $3,565 per month.
Job Outlook
The Bureau of Labor Statistics believes that the job opportunities for medical technologists working in the United States will grow by approximately 14 percent through 2018. This is slightly faster than the rate for all occupations, estimated to grow by approximately 13 percent between 2008 and 2018. Population growth and the continuing technical advancements made in medical testing technology are cited as the primary motivations for the increase. Medical technologists should, therefore, continue to achieve highly competitive monthly salaries.