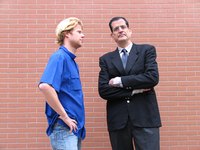 Working for a living brings advantages and disadvantages with it: on the one hand, you receive a paycheck, but on the other hand, your workplace can be the stage for conflict. Whenever two or more people come into contact, the possibility for conflict arises, and it can play out in the office. The subordinate-supervisor relationship offers the chance for parties to work together to achieve goals, or to lock horns and engage in constant battle.
Causes
Understanding the root cause of a conflict leads to its solution. At the workplace, causes for conflict abound. Poor communication makes employees feel out of the loop. When resources do not go to the right people or the company lacks the wherewithal for employees to do their jobs properly, workers become stressed and unhappy. Personality traits also give rise to clashes. Poor leadership, such as not accepting responsibility for decisions, being out of touch with employees and not fixing continuing problems, generates contention too.
Results
Unresolved subordinate-supervisor conflict can lead to very negative outcomes for both of the parties and the company. Constant animosity lowers job satisfaction for bosses and workers. In addition, this type of conflict negatively affects the employees' productivity levels and their commitment to their jobs. Discord between an individual worker and his supervisor also creates an unpleasant working environment and makes other employees uncomfortable. Ultimately, conflict can spiral out of control and cause employees to leave the company.
Resolving Conflict Together
If a conflict continues unabated, the consequences and results become worse, not better. For the sake of the employees, the bosses and the company, all individuals involved must make every effort to resolve the issue on their own. Conflict resolution involves patience, good listening skills and courage. To approach your adversary and suggest working out the problem, you need to be brave. You also must be patient enough to listen to the other person's needs and wants.
Mediation
While the best case scenario is when the subordinates and supervisors resolve the conflict on their own, sometimes they need help. Mediation involves bringing in a neutral third party to facilitate discussions between the two parties. The mediator will not judge anyone or hand down a binding decision finding fault with one party or the other. Instead, the mediator will guide the two sides toward a resolution while teaching them effective communication skills to prevent further conflict.