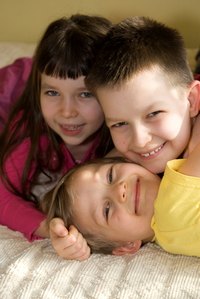 Child support law in 2011, like everything that has anything to do with family law, is a matter governed by the law of individual states. In response to federal mandates, however, all states operate under guidelines-based systems that take many similar factors into consideration. Rules for back support are as varied as the child support laws themselves, but these too have some similarities that make certain things true in almost all jurisdictions.
How Back Support Is Determined
Retroactive child support is support ordered to be paid for a period of time before the entry of a current child support order. Sometimes referred to as "back" support, these amounts are generally determined by applying a state's child support guidelines formula to the actual incomes and qualified expenses of the parties as they existed in that time period. "Back support" sometimes refers to child support "arrears," which are support amounts already ordered but unpaid. Arrears are determined by multiplying the amount of the monthly support order by the number of months the obligor has failed to pay, then subtracting whatever partial payments he has made.
How Far Back You Can Go
Like any other civil claim, back support is subject to a statute of limitations. The limitations period may be specifically set forth in the child support statutes or may exist in the section of a state's legal code under something like "limitation of actions." If no statute of limitations exists specifically addressing retroactive child support, most states have a "catch-all" statute applying a default limitations period to all cases not specifically covered. While the statute of limitations can operate as a bar to actions to establish back support, it generally will not operate to bar the collection of child support arrears.
Means of Collecting Arrears
Child support enforcement agencies and the obligees they represent use a variety of tools to collect arrears. Most states have laws specifying that a child support enforcement agency can seek the suspension of an obligor's driver's license or professional licenses for willfully refusing to support his children. Child support enforcement agencies can also intercept tax refunds and lottery winnings. Child support arrears operate as a lien against an obligor's real and personal property, so an obligee can in some cases seize the other party's house or car, sell the item and apply the proceeds to unpaid child support arrears. More commonly than seizure of personal property, obligees can seek contempt orders from the court. In a contempt order, a court can order a party to pay a certain amount by a certain time or go to jail.
Modification of Back Support
Once retroactive child support is determined and an arrears balance calculated, there is very little an obligor can do to change that amount except under extraordinary circumstances. Child support arrears balances are generally not subject to retroactive modification. If an obligor can satisfy his state's civil procedure rule on motions for relief from judgment, however, he may be able to set aside the order that determined his arrears balance and have it recalculated.