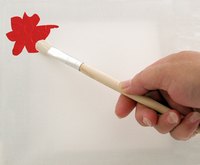 Art therapists work to help people address physical, emotional and mental challenges through the transformative power of art. Sometimes working in concert with other therapists or medical professionals, art therapists provide a number of engaging activities for clients to express their worries, concerns, fears or traumas through outwork. It's thought that providing an outlet for creative expression helps clients touch base with themselves to begin the healing process. Understanding the advantages of working as an art therapist may help you decide whether it's the right career for you.
Helping People
One of the major advantages of working as an art therapist includes helping people address and overcome life challenges including terminal illness, divorce, rape and other traumatizing events. Helping clients grapple with life's hurdles, brainstorm through artwork and eventually overcome obstacles can be a very rewarding experience. You may work with people who haven't experimented with their artistic side in decades, opening up a whole new world of self-expression and creativity in the healing process.
Employment Opportunities
Another advantage to working in art therapy is the abundance of work location possibilities, increasing your chances of finding a job. In the medical field, art therapists may work in hospitals, outpatient facilities, clinics, physical rehabilitation offices or wellness centers. Therapists may also work in social services settings, including youth centers, shelters, halfway houses or correctional facilities. In the community, art therapists can work in art studios or cross-cultural settings. Art therapists also work in schools and universities. The Bureau of Labor Statistics predicts a 15 percent job growth increase between 2008 and 2018, faster than average for all occupations.
Artistic Environment
Most people don't get to work in an artistic environment. An advantage of working as an art therapist includes being surrounded by art, so that paint, paper, clay, mosaic tiles, colored pencils and ink become part of your daily work environment.
Advancement
Over time, an art therapist may choose to move into training, management or educational roles, providing room for professional growth over the course of her career. Earning advanced degrees, such as master's degrees or a doctoral-level degree, helps the art theraist transition to positions with higher pay and greater responsibility.
Drawbacks
Realistically, there's no such thing as a "perfect" job, and while it's good to know the advantages of working as an art therapist you'll want to understand some of the drawbacks. It can be emotionally draining to work with traumatized clients on a daily basis, and art therapists require a good deal of schooling (at least a bachelor's degree, and in many locations another two-year therapy degree on top of that) before beginning. Starting salaries average around $38,000.