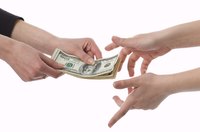 The Fair Labor Standards Act, established in 1938, provides federal protections for employees who are paid by the hour and those paid on a fixed salary basis. These protections include the guarantee of at least a minimum wage and extra compensation for overtime hours worked. Some salaried positions, however, are exempt from these protections.
Minimum Wage
As of 2011, federal law mandates that employers pay workers a minimum of $7.25 an hour. Some states have different minimum wage rates and employers in those states must pay whichever rate is higher. When employers pay by fixed salary, they must calculate the salary based on the number of hours the employee regularly works and pay at least the minimum wage for those hours.
Non-Exempt Employees and Overtime
Most employees are covered by the Fair Labor Standards act and are therefore not exempt from its overtime pay requirements. Employers must calculate overtime rates into a salary if the employee regularly works more than 40 hours per week. For each hour over 40 in a workweek, employers must pay one and a half times the employee's hourly rate.
Exemptions from Overtime
Employees with a salary level of $455 a week or more may be exempt from overtime laws. Those who make $100,000 a year or more are almost certain to be exempt. People who work in administrative and professional positions may be exempt, as well as outside salespeople and certain kinds of computer experts.
Reductions in Salary
In most cases, an employer may not reduce a salaried employee's pay if the employee's quality level of work falls off or if the employee isn't able to work all the days expected. For the most part, if an employee's salary is based on an annual figure divided by the number of paydays in a year. The Fair Labor Standards Act web page says that employee is guaranteed a set amount of money per pay period, regardless of hours actually worked.