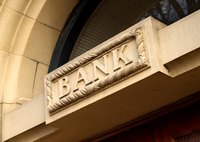 Business owners can spend months preparing information to present to a bank as part of a loan application process, but unless those business owners know what a bank is looking for the information could be useless. Getting a small business loan requires the right kind of preparation. Take the time to understand what banks are looking for from a small business when they are considering lending money.
Your Finances
When a small business owner comes looking for a loan, the bank will take into consideration the personal finances of that business owner, according to Phil Trumble writing on the Business Know How web site. Order your personal credit report and make sure the information is accurate and pay off any old debts that are still considered open. Business owners that own a home and have several instances of personal financial obligation that they are current on with their payments have an advantage with banks over owners that do not. Attend to your personal finances before applying for a business loan to improve your chances of getting approved.
Business Credit
If you do not already have credit accounts established in your business name, you should get some before applying for a bank loan, according to the More Business web site. Establish a business credit profile with Dun and Bradstreet, and then ask your vendors to report your payment activity to your new credit profile. Ask your vendors to give you credit accounts and then make sure the activity in those accounts is getting reported. Apply for business credit cards and use them to help establish a history of paying debt. Banks want to see a business that has some sort of established payment history for other debts before approving a loan.
Business Plan
A bank will want to know why you are asking to borrow money, so you need to have a comprehensive business plan to show the bank representative. Create a detailed description of your current business activities, the new business venture you are looking to borrow for and how much revenue you expect your new venture to generate. The more detail you can give the bank on what your plans are, how you intend to execute them and the return you expect the more confidence the bank will have in lending you money.
Activity
You can help your chances of getting a bank loan by moving your company business to that bank before you start applying for a loan, according to the web site of SCORE, or Service Corps of Retired Executives. A bank wants to see the financial activity your business generates before approving a loan, and there is no better way to do that than to give the bank first-hand experience by having your accounts with it. Your status as an existing business banking customer will be taken into account when you apply for a business loan.