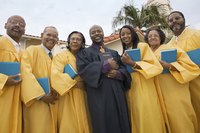 Most Americans cite medical insurance as a major factor in their family's financial health, and church workers such as pastors are no exception. Ever-rising medical costs make the issue of medical insurance for pastors particularly pressing. Fortunately for both pastors and churches, there are several alternatives available for providing pastors and their families with affordable medical coverage.
Group Coverage Plans
Churches with several employees can provide medical insurance for their pastors by adding them to a group coverage plan. Group health insurance is generally more affordable than individual policies, and it frequently covers additional medical conditions such as maternity, eye care and dental care. Rates for group health insurance vary from provider to provider and may depend upon the size of the group being covered; however, group policies provided for pastors are tax free up to $50,000.
Health Savings Accounts
Health Savings Accounts are bank accounts that are maintained or provided by a church and designated to meet the pastor's and his family's medical needs. The funds in an HSA may be used for individual medical expenses such as doctor visits or medication, and may also be used to purchase the health insurance that best fits the pastor's needs. HSA's provide personal convenience, flexibility of coverage, planning for medical expenses and have tax benefits as well.
Flexible Spending Accounts
Flexible Spending Accounts (FSAs) are similar to HSAs, but are funded through the pastor's payroll deductions rather than the funds being provided by the church or denomination. FSA contributions are deducted from the pastor's pay before taxes are calculated, making that portion of the pastor's salary tax-free. The FSA may be used for qualifying medical expenses for the pastor or his family, just as with an HSA.
Medical Sharing Programs
Another means of providing medical coverage for pastors is a medical sharing program, in which program members pay monthly fees into a common pool of funds that is used to pay participating members' medical expenses. Alternately, some medical sharing programs direct members to pay "gifts" directly to those members in need. However, medical sharing programs are not insurance, and these programs should be carefully, individually evaluated before being chosen as a primary means of meeting pastors' medical needs.
Self-Employed Pastors
Pastors who are considered self-employed for tax purposes must report any medical funds or reimbursements they receive from their churches as taxable income. However, they may deduct up to 60 percent of their health insurance premiums, with the remaining portion deductible only up to 7.5 percent. Self-employed pastors may participate in private insurance or medical sharing plans or may seek out professional groups that make group coverage available to working individuals.
Patient Protection and Affordable Care Act
Another option is to purchase insurance coverage through the online exchanges established by the PPACA. Some states have established their own exchanges, and an exchange operated by the federal government serves the remaining states. Pastors who are independent contractors for tax purposes, or who are employees of the church but are not provided health insurance by the church, are eligible to use the exchanges to secure an appropriate health insurance plan. You can access your state's exchange, or the federal exchange, by navigating to www.healthcare.gov.