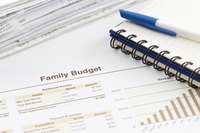 Many people automatically stop listening when they hear the word "budget," but when properly set up and managed, a budget can lead to prosperity. Budgeting makes you aware of your spending habits and can identify excessive or unnecessary expenses. If you're living paycheck to paycheck or frequently find that you have more month than money, setting up a sustainable budget system can help break the cycle and put you on the path to financial freedom. The most important aspect of any budgeting system is that it works well enough for you that you'll continue to use it.
Budgeting Basics
Every budgeting system requires you to have at least a basic idea of your monthly income and expenses. Once you have that information, you can use whatever system best meets your needs or combine aspects of several different systems. Your budget will require tweaking as your spending habits, goals or priorities change.
Envelope Budgeting
Envelope budgeting is a cash system of money management. You determine how much you have to spend in various categories, create an envelope for each category and put the appropriate amount of cash into each envelope. When the envelope is empty, you can no longer spend in that category. An envelope budget works on a weekly or monthly basis, or you can make it coincide with your paychecks. Since many banking transactions and bill payments occur online or via check today, cash doesn't always work for everyone. You could make a deposit at the bank every time you pay a bill, but that can unnecessarily complicate matters. Many people use electronic and check payments for bills, and cash envelopes for variable and discretionary expenses such as groceries or entertainment. You can also create virtual envelopes and combine cash, check and electronic spending in one system.The online program Mvelopes is based on virtual envelope budgeting.
One Month Ahead
The one month ahead budgeting system simply means that you keep a month's worth of expenses in your bank account, so that you'll always have money to pay your bills. If your monthly expenses are $3,500, for example, then you would deposit $3,500 at the beginning of January for bills that are due in February and $3,500 at the beginning of February for bills due in March, and so on. This system not only helps you avoid living paycheck to paycheck, but it also provides a buffer in the event a bill is larger than usual. One month ahead budgeting is the basis for the You Need A Budget program.
Zero-Based Budgeting
With a zero-based budgeting system, you categorize every cent of your income, so that at the end of your budgeting period you don't have anything left over. Typically, any actual excess goes to savings or debt payoff. The zero-based system works well for people who want to know where every penny goes and who are willing and able to track their income and spending on a frequent basis. Programs such as Quicken or Mint.com provide tracking and categorization tools that work well with zero-based budgeting.
Allocation Budgeting
On the opposite end of the spectrum from zero-based budgeting, allocation systems minimize the need to keep tabs on every transaction or develop detailed categories for your expenses. With allocation budgeting, you create a few broad categories and assign a percentage of your income to those. The 50/30/20 allocation system, for example, assigns 50 percent of your income to "needs" such as food, housing, utilities, transportation and clothing, 30 percent to "wants" such as entertainment or vacations, and 20 percent to savings or debt payoff. The 80/20 system is set up so that you put 20 percent of your income into savings and use the 80 percent that's left for everything else. For more aggressive savers, the 60/40 system allocates 60 percent of your budget to your expenses, and the remaining 40 percent divided equally between short-term savings, long-term savings, retirement savings and discretionary spending.