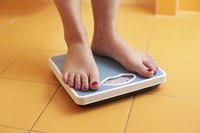 Many Americans struggle with their weight, and more than 50 percent of people in the U.S. are making attempts to lose weight at any one time, according to the Calorie Control Council. While weight loss is good for health when you're overweight or obese, becoming obsessed with dieting ultimately interferes with your life by affecting your nutritional, physical and emotional health. If you're obsessing about what you eat to the point that it's affecting your daily activities, consult your doctor.
Nutritional Deficiencies
An individual who consistently restricts calories to achieve a lower body weight is considered a chronic dieter. Calorie restriction for the chronic dieter often includes limiting fat intake and making overall poor dietary choices, according to a 2004 study published in the "Journal of the American Dietetic Association." These dietary practices increase risk of nutritional deficiencies. The diet obsessed may restrict fat because it is a concentrated source of calories, but getting enough fat in your diet is essential for the absorption of the fat-soluble vitamins A, D, E and K, and at least 15 percent of your calories should come from fat to prevent deficiencies.
Less Muscle and Bone Mass
Obsessive dieting also affects physical health. Some women who chronically restrict their calorie intake have less muscle mass, which may lower their metabolism, according to a study from 2000 published in "The American Journal of Clinical Nutrition." Restricting food intake and making poor dietary choices also affects bone health. A 2004 study published in the "European Journal of Nutrition" found that premenopausal obese women with a history of restrained eating were at a greater risk of low bone mass, which is believed to be due to their history of chronic dieting.
Increased Risk of Depression
Restricting your calorie intake increases cortisol levels, according to a 2010 study published in "Psychosomatic Medicine." Cortisol is the fight-or-flight stress hormone meant to help you survive life-threatening situations. But when levels are elevated for a prolonged period of time, it increases your risk of depression and mental illness. Obsessive dieters already struggle with self-esteem and body image issues, and continually restricting nutrition may increase risk of depression.
Stopping the Obsession
The National Diet and Eating Disorder Centre in Ontario suggests that you stop your dieting obsession by avoiding labeling foods as bad or forbidden. Instead, look at food as a way to nourish your body. Fill your diet with a variety of choices from all the food groups, including fruits, vegetables, whole grains, lean proteins and low-fat dairy, and eat regular meals and snacks.