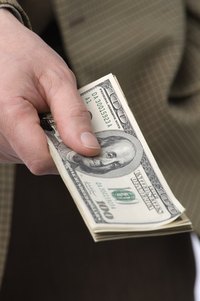 FHA insurance on a mortgage loan is a benefit to the lender, not necessarily the borrower. In the event of default, the lender can submit a claim to the FHA, which is a branch of the U.S. Department of Housing and Urban Development, and the FHA will pay the lender the outstanding balance on the mortgage loan. However, the FHA has authority to require lenders to first seek to collect the full balance from the borrower who defaulted.
Credit Report
Borrowers are always responsible for repaying their mortgage loans, even when the loan is insured by the FHA. Accordingly, a borrower who defaults on an FHA loan will receive negative impacts on his credit report.
Foreclosure
A borrower is also responsible for default in the sense that the borrower will lose his home in a foreclosure sale. Lenders on FHA loans process foreclosures just as they would under conventional mortgage loans.
Deficiency
In many states, a lender has the right to pursue a deficiency against a borrower who has defaulted on a mortgage loan. A deficiency arises when the home sells in foreclosure for less than the amount due on the mortgage. The borrower is responsible for making up that deficiency, at least in most states. Some states, like California, do not allow lenders to pursue deficiencies against mortgage borrowers.
Insurance
The most common result of a foreclosure sale is that the mortgage lender ends up taking title to the home. The lender makes a "credit bid" at the foreclosure sale, which is basically a bid equal to the outstanding balance on the mortgage loan. At that point, a lender under a conventional mortgage loan would have no option but to try to sell the property on the open market. However, with FHA insurance, the lender can submit a claim to the FHA, which means the FHA pays the lender the amount due on the mortgage and in exchange the FHA takes title to the property. Most lenders on a FHA loan would prefer to submit a claim to the FHA rather than pursue a deficiency against the borrower.
FHA Requirements
In certain circumstances, the FHA requires lenders to first pursue a deficiency before the FHA will process the insurance claim. First, the FHA only requires pursuit of the deficiency if state law allows the lender to pursue a deficiency. Even then, though, the FHA generally only requires pursuit of a deficiency if the borrower was not occupying the property, if the borrower previously defaulted on a FHA loan, or if the borrower apparently just walked away for the mortgage and home despite the borrower's apparent ability to pay the mortgage.