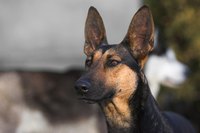 German shepherds are large, strong dogs that require adequate nutrition to promote their health. There are many great dog food options that benefit German shepherds, with many consumers choosing Eukanuba, Royal Canin, Holistic Select and Pedigree. Although these are some of the most popular choices for feeding German shepherds, there are many other great options as well.
Eukanuba
German shepherds will find benefits from Eukanuba German shepherd dog food, including digestive health, skin health and coat health. The product also has been clinically proven effective in six performance areas, including lean muscles, optimal digestion, strong defenses, strong bones and dental health. This product is back by the Good Housekeeping Seal.
Royal Canin: German Shepherd 24
The German Shepherd 24 product from Royal Canin is great for German shepherds who are older thanr 15 months old. This dog food has been proven to benefit a German shepherd's immune system, digestive system, joint mobility and skin protection systems. Royal Canin was the first company to introduce a dog food that was specifically designed for large dog breeds, such as German shepherds.
Holistic Select: Lamb Meal Recipe
The Holistic Select Lam Meal Recipe is a dry dog food that is great for promoting the health of German shepherds. The lamb that their product is made from offers a hypoallergenic alternative to poultry. The product provides Taurine for eye and heart health and also adds vitamins to promote healthy cells and a healthy immune system.
Pedigree: Large Breed Nutrition for Dogs
Pedigree, a common dog food brand, has a large breed dog formula that was specifically created for large dogs like German shepherds. This product promotes strong bones and healthy joints. This recipe was developed by Pedigree using research that was conducted by WALTHAM Centre for Pet Nutrition.