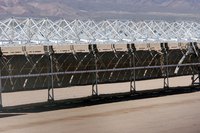 Hit hard by the Great Recession, Arizona entered the second decade of the 21st century with near double-digit unemployment and no major relief in sight. Rather than wring their hands, the state tapped federal American Recession Recovery Act funds and created education grants for the long-term unemployed. Not paid directly to individuals, cities and counties draw upon these funds to offer grants paying full costs of training for workers.
Workforce Connections
Workforce Connections fund programs training displaced workers' shift into parallel or new careers. All counties and major cities offer their own programs; the unemployed in rural areas enroll through the Department of Economic Security.
The seven-day intensive course teaches innovation, basic computer skills, résumé writing and how to find new jobs.
Reach Workforce Connections at any DES Workforce Services office throughout the state or through its website, azdes.az.gov.
ArizonaHeat
The most accessible education grant for the unemployed is the Department of Education's ArizonaHeat. Displaced workers select an approved training program with the grant paying full training costs, books and supplies.
Administered by DES through its Career Centers, ArizonaHeat grants are also awarded through local county and city Workforce Connections. Applicants start the process in any DES Workforce Services office or on the Department of Education's website, ade.az.gov.
Energy Job Training Grants
Green energy jobs are opening rapidly in Arizona, and job training is funded by U.S. Departments of Energy and Labor grants to the state. Arizona's Department of Education awards education grants for unemployed worker enrollment in accredited private and public trade schools and colleges. The money is used as an education grant offsetting wages paid to energy apprentices.
Workforce Connections is the starting point for these grants.
Information Technology
The nonprofit Computer Career Foundation (computercareerfoundation.org) offers grants and scholarships on the basis of economic need and employment objectives. Designed to fund fast-track training programs, grants are awarded to cover costs of one to four months of recognized Microsoft certification education programs.