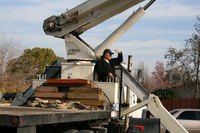 Crane operators use equipment to lift and move heavy items such as building materials and machinery. They primarily work at construction sites, in manufacturing industries that use heavy materials, and at major shipping ports, where they load and unload cargo. Heavy crane operator salaries usually are more than $40,000 per year, says the U.S. Bureau of Labor Statistics.
Requirements
Some employers require crane operators to hold certification from the National Commission for the Certification of Crane Operators, and 17 states require crane operators to be licensed, according to the U.S. Bureau of Labor Statistics. Licensing typically requires passing a written test and a practical skills test.
Salary Range
The average pay rate for heavy crane operators in May 2009 was $22.93 per hour, or $47,700 per year, according to the U.S. Bureau of Labor Statistics. The middle 50 percent of those on the earnings scale were making $16.50 to $28.50 per hour. The bottom 10 percent had hourly pay rates below $13.40 per hour, and the top 10 percent more than $35 per hour.
Types of Employment
Specialty trade contractors that primarily work on site preparation are the main employers of heavy crane operators. These contractors ready sites for new construction as well as for additions, alterations, and maintenance and repair work. Crane operators working for these employers had an average salary of $26.72 per hour, or $55,580 per year in May 2009, according to the U.S. Bureau of Labor Statistics. Crane operators working for iron and steel mills and in ferroalloy manufacturing were earning $21.30 per hour on average, in marine cargo and port and harbor operations about $22 per hour, and for foundation, structure and building exterior contractors $25.50 per hour. Aerospace product and parts manufacturers pay the highest average wage to these workers at $32 per hour in 2009, but they only employ a small number of crane operators.
Geography
Certain parts of the country are more lucrative than others for heavy crane operators. Nevada and Alaska were the highest-paying states for these workers in 2009, with an average pay rate of about $35.65 per hour, or $74,150 per year. Other high-paying states were Hawaii at $33.79, Washington at $32.36 and New York at $31.37 per hour. The highest-paying metropolitan regions for heavy crane operators were the New York City area at $44.53 per hour, and Nassau-Suffolk on Long Island in New York at $37.06 per hour.