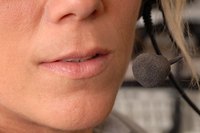 Police dispatchers, often referred to as 911 operators, dispatch emergency services personnel in answer to the public's calls for assistance. Due to an aging population, the U.S. Bureau of Labor Statistics projects that the demand for dispatchers and other emergency services workers will increase in the coming years. The job of police dispatcher is rewarding, but challenging and stressful at the same time. Police departments look for certain qualities and skills when interviewing applicants for the position.
Application Process
Fill out the application and any attachments completely. Follow the instructions carefully answering all questions honestly. Provide accurate information and current references. Submit the application form prior to the application deadline. Include copies of your resume and other supporting documentation that the application requests. Some police departments now require that candidates for the position of dispatcher submit applications online.
Written Test
If the police department or agency requires that you take a written test as part of the application process, brush up on basic grammar and written communication skills beforehand. One of the duties of a police dispatcher is maintaining accurate and legible records. Reading comprehension and fundamental math skills are other areas to reacquaint yourself with. Additional requirements of the job include basic typing and the ability to operate a computer. You must pass the written exam with the minimum accepted score for the department to consider you for employment.
Oral Interview
The oral interview is designed to give interviewers the opportunity to observe your behavior, test your knowledge and skills and see how you react when under pressure. Since police dispatchers interact with the public on the telephone, make it a point to exhibit a courteous and professional demeanor throughout the interview. The interview board may present you with a hypothetical situation and then ask how you would handle a call coming in to the department. You must demonstrate that you are able to react quickly and calmly to emergency situations. The police chief and other law enforcement staff traditionally conduct the interviews for emergency dispatchers.
Background Investigation
The background investigation for the position of police dispatcher generally includes fingerprinting, polygraph tests, alcohol and drug screening, psychological evaluation and medical examination. Some police departments will check back five to seven years, whereas others will go back farther. The purpose of a background investigation is to verify the information that an applicant provides on the application. A criminal background check is conducted to make sure that you have no prior felony arrests or convictions.
Physical/Psychological Examinations
Employment offered to successful candidates is conditional on passing medical-physical exams and psychological examination. Licensed health care professionals, often chosen by the police department, conduct the examinations. The job of police dispatcher is a highly stressful occupation; therefore, you need to be in good physical and mental health.