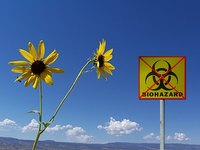 Corporate social responsibility is the concept that businesses should focus on more than just the financial bottom line but should also act as good corporate citizens that contribute to the betterment of the world. Corporate social responsibility is an idea that is becoming increasingly common in top firms, and anyone working in the corporate world should become familiar with this concept.
Social Accounting
Traditional accounting only considers the financial bottom line of a company. Corporate social responsibility entails caring for more than the firm's financial resources and includes the measure of a firm's social and environmental contributions. Financial, social and environmental performance are often referred to as the three Ps: profit, people and planet. Many refer to the three Ps as a triple bottom line, in contrast to the traditional accounting method that considers only the financial one.
Ethical Consumerism
Ethical consumerism is the concept that individuals in need can be helped through consumerism, which is the purchase of goods and services. Companies that practice ethical consumerism develop products that seek to raise the standard of living for people. An example of this would be a company that develops cheap but nutritional foods for the poor. By producing and selling them cheaply, the company can help people in need while at the same time gaining revenue from selling the products to a new market.
Ethical Behavior
The concept of ethical behavior is important with regard to corporate social responsibility. This is the idea that corporations should behave in an ethical manner. Behaving ethically is not the same as obeying laws. In addition to obeying laws, an ethical firm should behave in a way that does not harm society or the environment. Ethical behavior stems from the behavior of individuals within the firm; thus firms that want to behave ethically need to ensure that their employees are properly trained to do so as well.
Stakeholder Management
The traditional view of a company holds that it is responsible to look out for the interests of its owners alone. In corporate social responsibility a firm has a responsibility to many different parties. The idea of stakeholder management is understanding and balancing the wants and needs of these various stakeholders, from owners and employees, to non-governmental organizations, governments, local communities and many more. Stakeholder management seeks to understand the perspective of the various groups and to satisfy them as best as possible.