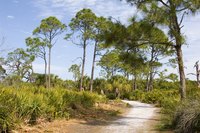 While some are content dipping a bare toe into the warm teal waters of Florida's Gulf Coast of the deep blue sea, others take sun worship in the Sunshine State a little further and want to bare it all. Florida has few legal nude beaches, although a handful of beaches offer a sort of tacit approval of nude sunbathing by not ticketing for nudity unless it's accompanied by another crime.
Haulover Beach
Haulover Beach in Miami is the lone nude beach sanctioned by a government agency. Run by Miami-Dade County, Haulover Beach has distinct boundaries. This nude beach also has a nude volleyball area and a separate gay nude sunbathing area. This beach is little more than a half-mile long, but its designation as a legal nude sunbathing area attracts more than 1,000 people a day during the height of Miami's tourist season.
Apollo Beach at Cape Canaveral
The beaches south of parking lot No. 5 at Apollo Beach allow nudity. This beach has a history of nude sunbathing and, in 2000, park supervision agreed to allow nudity in certain areas. Part of this agreement calls for local naturist groups to encourage fellow naturists to sunbathe only in the designated areas. Every visitor to Apollo Beach gets information at the gate, informing them of designated nude sunbathing areas. Another Apollo Beach is on the state's west side, but it is not a nude beach.
Playalinda Beach
This beach has an on-again, off-again relationship with nude sunbathers. County officials enforce a law that doesn't allow nudity on federal land, although at times officers patrolling the beach will tell sunbathers they will only ticket for nudity if they see other illegal activity in conjunction with it. This beach is also part of the Canaveral National Seashore, which adds to some of the confusion about who enforces whose laws. In short, nude sunbathing is illegal at this beach, but that doesn't dissuade local naturalists who use this area as a nude beach.
Just Outside John D. MacArthur State Park
This park, in north Palm Beach, used to allow nudity. In the 1980s, though, the state took a firm stance against nudity in the park. Today, nudists skirt the law by walking down the beach off park land before removing their swimsuits. The park's beaches stretch for 2 miles along the Atlantic.