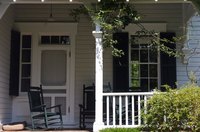 Just about everyone who has filled out a tax return knows how complicated tax code has become. Part of that complication stems from the fact that the government uses the tax code to encourage certain behaviors, from buying a house to holding a steady job. While the chief goal of the U.S. tax code is to raise money to fund the government, many of the tax credits and tax deductions are designed to reward certain actions, including saving for retirement and giving to charity, on the part of the taxpayers.
Earned Income Tax Credit
The earned income tax credit is designed to reward people for working and encourage those on public assistance to reenter the work force. This tax credit provides payments to low and moderate income taxpayers who earn income and support their families. The earned income tax credit is a refundable tax credit, meaning that taxpayers can take advantage of the money it provides, even if they do not have any tax liability.
Home Mortgage Interest Deduction
The government plays a role in encouraging home ownership by providing a tax deduction for the money those homeowners pay in interest on their mortgages. Taxpayers who itemize their deductions can take this deduction and use it to significantly lower their tax bills. Those who itemize can also write off the amount of their real estate taxes, providing yet another incentive for people to own their own homes.
Retirement Plans
The government also takes an interest in helping people save for a comfortable retirement. The IRS provides a number of retirement savings incentives, including allowing workers to deduct the money they contribute to 401k plans from their Federal taxable wages. The IRS also provides a tax deduction for IRA contributions for wage earners and SEP-IRA and SIMPLE-IRA deductions for small business owners and self-employed individuals.
Health Savings Account
The IRS provides a tax deduction for individuals who open health savings accounts. This health savings account deduction is intended to encourage people to plan more effectively for the high cost of medical care. The government officials who helped develop the health savings account felt that putting consumers in charge of their health care spending would make smarter decisions, and the HSA deduction is designed to encourage that behavior.