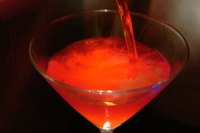 When you are raising money for an organization, nightclub fundraising events offer the opportunity to reach a young, hip crowd that might not otherwise be inclined to donate money. By integrating fundraising efforts into a club's normal functions, you can bring publicity to the club and help it build a positive reputation while boosting your group's bank account.
Donate Profits
If you can find a club that is committed to helping raise money for your cause, work with them to donate all or a percentage of the profits from a single night. Consider both cover charges and bar profits in the fundraiser. In return, make the evening a night to remember by advertising heavily and offering events like raffles and free food to clubgoers. If possible, invite special guests from the group of people that will benefit from the fundraiser. The club will benefit from the positive association that comes from raising money for charity, and customers can enjoy a night out knowing that their money is going to a good cause.
Salsa Night
To attract a new group of people to a nightclub, hold a salsa night fundraiser. Bring in salsa teachers a few hours before the club's normal opening hours and have them teach lessons to customers; focus on basic steps and have them teach a few fancy moves that are easy to execute. Encourage guests to come dressed in their finest and flashiest salsa clothing, and have the teachers present a few exhibition dances during the evening. Charge a fee for the lessons and a fee for entry, and ask a local Spanish or Latin American restaurant to sponsor the event by donating food.
Guest DJ
For a nightclub that focuses on mixed music, find a well-known DJ who is willing to waive the spinning fee to perform for a fundraising evening. Use the DJ's name in the marketing materials to attract people to the club, and ask him to give a few soundbytes promoting your cause. Use posters, flyers and promotional models to advertise the evening, and put the focus on the music. If the buzz around the event is big enough, you will get customers who come just to see if the DJ lives up to his name.
Firefighter Pageant
For a fun evening that will bring new business to a nightclub, hold a firefighter pageant; you can also use police officers or government officials. Choose both male and female participants to attract a wider crowd and publish suggestive photos of a few before the pageant. Have contestants compete in a variety of pageant activities like a swimsuit competition and a talent portion. Find well-known people in the community to act as celebrity judges, and donate profits from the door and the bar to charity. This type of fundraiser is particularly effective if the service people are connected to the charity that will receive the funds.