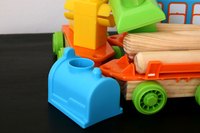 Compensation for child care services may need to be reported on your taxes, depending on where the services are provided and how much you make. Caregivers who provide child care services in their own homes are self-employed providers and are subject to different tax filing guidelines than providers who work out of the client's home.
Filing Basics
Federal law requires you to report income from child care if you work from your home and earn more than $400 in a year, according to the Internal Revenue Service. If you provide child care services in the client's home and you're single, you're required to file a return if you earn at least $9,350. The income threshold for married providers filing jointly starts at $18,700, if child care is provided in the client's home. However, if you incur expenses related to child care services, you may want to file anyway if you think you may qualify for a tax refund.
Legal Responsibility
Home-based child care providers must pay self-employment tax if income for the tax year exceeds $400. The self-employment tax consists of a 12.4 percent Social Security tax and a 2.9 percent Medicare tax. You're also required to provide your child care clients with your taxpayer identification number so that they can claim the Child and Dependent Care credit on their taxes.
If you provide child care services in a client's home, the employer is required to pay either half or all of your Social Security and Medicare taxes if you earned $1,700 or more, according to the Internal Revenue Service. If the employer elects to pay half, then the other half must be deducted from your wages. (Ref 4)
Benefits
Reporting child care income makes you eligible to claim deductions related to your business. If you work from your home, you can deduct expenses such as toys, supplies, food, training and professional dues, even if you're not licensed or certified. You can claim advertising expenses, equipment, art supplies and household supplies used for your day care business. Gas expenses incurred to attend training, transport children to school and attend field trips are also deductible.
Considerations
If you comply with your state's regulatory requirements for day care programs, you can also claim partial deductions for the business use of your home, such as mortgage interest, real estate taxes, insurance, rent, utilities, repairs and maintenance, according to the IRS.
If your parents claim you as a dependent, the IRS requires you to file income from babysitting only if your earned income is at least $5,700. (Ref 6)