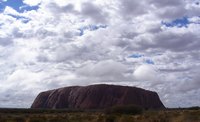 A lack of precipitation due to climatic factors characterizes the deserts of the world. These factors include the drying and stabilization of turbulent, moisture-laden tropical air as it rises in elevation and migrates away from the equator producing a region of stable, dry air along tropical fringes. Another factor in desert formation is the circulation of the ocean as wind and ocean upwellings pull moisture from the coast out to sea. Rain shadows further promote the existence of deserts as air loses its moisture content ascending up one side of a mountain leaving dry air to produce arid conditions on the opposite side of the mountain. Furthermore, large continents result in arid conditions as the moisture content of the air continually drops as it crosses the continent unable to regain moisture from its primary source, the oceans. The deserts in the southern hemisphere lie along similar latitudes and exemplify these forces.
Australia
More than three-quarters of the island continent of Australia receives less than 600 mm of precipitation and half of Australia receives less than 300 mm of precipitation each year. Much of Western and Central Australia is a collection of deserts, the largest of which include Great Victoria, Great Sandy, Tanami, Simpson, and Gibson deserts, each covering an area ranging from 60,000 square miles to more than 130,000 square miles. These deserts are largely governed by the sheer size of Australia producing an air mass that has depleted its moisture content. Both the emu and red kangaroo, symbols of Australia, inhabit these arid regions along with wallabies and bilbies. Uluru, a sandstone dome that is perhaps Australia's most famous natural landmark is found within this region.
Africa
The Namib desert features large sand dunes stretching inward from Africa's southwestern coast. The off-shore upwelling contributing to the formation of this desert also leads to the desert coastline being shrouded in fog. Life has had 55 million years to adapt to what may be the Earth's oldest desert. A number of reptiles occupy the dunes that comprise its area. Some grazing mammals are also found in this region, such as the gemsbok and springbok, which are in turn preyed upon by cheetahs and hyenas. One plant of note in this region is welwitschia, growing along gravelbeds which collect and hold the sporadic rainwater below the surface. These plants possess two leaves which they maintain throughout their life, a remarkable feature considering the oldest of these gymnosperms are estimated at 2,500 years old.
South America
A 600-mile desolate strip of land between the Andes Mountains and the Pacific Ocean known as Atacama is among the driest regions of the world. So little precipitation reaches this desert that precipitation has yet to be recorded in some areas with other areas receiving less than 1 cm per year. Although seemingly inhospitable, more than one million people reside along this desert and the rocky, otherworldly landscape has provided a test environment for robotic space explorers. The clear, arid air has led to this desert becoming home to multiple, large telescope facilities operated by the European Organisation for Astronomical Research in the Southern Hemisphere.
Antarctica
Although extremely dry with little precipitation throughout most of the continent, Antarctica is regarded a tundra region rather than a desert. Although many deserts experience freezing temperatures, Antarctica has permanently frozen subsoil distinguishing it from deserts. In spite of an accumulation of thick ice covering the continent, Antarctica averages less than two inches of precipitation a year making it one of the driest places on Earth. Combined with strong winds, extended periods of darkness, and pro-longed subfreezing temperatures, Antarctica is one of the harshest terrestrial environments on the planet, but animals and even some plants and algae have managed to find a niche within this harsh region.