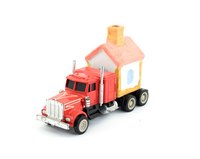 A local move, or a move to a location less than 100 miles away, according to 123 Movers, carries a cost structure considerably different from long-distance moves. Professional movers and do-it-yourself truck rental agencies have separate pricing for these moves, and a local move can cost hundreds or even thousands of dollars.
Mover Costs
Professional movers have pricing arrangements for a variety of services, according to the consumer pricing and shopping website Cost Helper. Professional movers typically charge around $25 per worker per hour as of January 2011, and this figure equates to about $300 to $450 for a 900-square-foot two-bedroom apartment. Because the hourly rate applies to loading the truck, driving and unloading at the destination, larger homes can carry considerably higher price tags. A large home, according to Cost Helper, could require at least six movers and up to 12 hours of labor, leading to price of up to $1,800 for the moving labor alone.
Other Services
In addition to loading, driving and unloading, professional movers also offer an array of other services with varying prices. According to Cost Helper, many movers will professionally pack belongings for $25 to $35 per hour as of January 2011, plus the price of any required packing materials. Movers may charge a premium for upstairs apartments or multistory houses, and many movers offer insurance at a rate of around 30 cents per pound of insured belongings as of January 2011. The time of year may also cause prices to rise, as professional movers may charge higher prices during peak demand periods like weekends and summertime. Cost Helper also recommends offering movers a gratuity of up to 15 percent of the total bill.
Packing and Preparation
Whether using professional movers or using a do-it-yourself approach, moving typically requires an array of moving supplies. Typical supplies, according to the website Moving Orbit, include shipping boxes, clothing or wardrobe boxes, tape, blankets and wheeled handcarts. Some do-it-yourselfers can reduce costs by asking local merchants for used boxes; some companies also offer rental rates on wheeled handcarts that can reduce expenses.
Truck Rental
Self-service moving often requires the use of a moving truck, and the truck can represent a significant expense during local moves. Truck rental companies charge by the mile for local moves, according to the website Moving Truck Rentals, and the per-mile rate varies from 49 cents to $1.49 as of January 2011, depending on the size of the truck, the rental location and the day of the rental.
Considerations
Local moves differ considerably from long-distance moves, according to the website 123 Movers. Moving companies and truck rental agencies often charge a flat fee for long-distance moves rather than the per-mile and per-hour fees associated with local moves. In addition, 123 Movers recommends getting quotes from numerous moving companies and truck rental agencies, as prices can vary considerably from one company to the next.