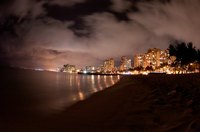 Waikiki is located on the southern shore of Honolulu and consists of 1.5 miles of prime beach property lined with hotels, shops and restaurants. Visitors to the area enjoy year-round surfing, scuba diving and hiking. Attractions around Waikiki include the Waikiki Historical Trail, Waikiki Aquarium and Honolulu Zoo. If you are visiting and are looking to dine for less and save money for events and attractions, several restaurants in the area will fit the bill.
Duke's Waikiki
Visit Duke's to sit right on Waikiki Beach and enjoy an all-you-can eat lunch buffet with items such as sauteed mahi mahi, grilled teriyaki chicken, Kalua pork and cabbage and a seasonal special that rotates. As of January 2011, the buffet meal complete with salad bar was $13.95 per person. Discounts for children and seniors are available. The vibe at Duke's in distinctively Hawaiian, and you will dine overlooking the beach while surrounded by native flowers and colorful art. The focus is on traditional Hawaiian cuisine.
Iyasume Musubi
Iyasume Musubi serves Japanese menu items with a colorful Hawaiian flare in a casual environment at the heart of Waikiki. The restaurant is small and the walls are covered with a mix of eclectic items that include an area dedicated to President Barack Obama's Hawaiian heritage. The family that owns this restaurant has been serving sushi and other Japanese fare in Waikiki since 2000. Choose from selections that include spam and salmon musubi, rice balls and a number of soup choices. As of January 2011, meals at Iyasume Musubi started at under $6. That price will buy patrons two large pieces of sushi or musubi and a large bowl of soup.
Hee Hing
Hee Hing serves authentic Chinese dishes in Waikiki within walking distance of attractions as the Ala Wai Golf Course, the Honolulu Zoo and Kapiolani Park, the latter of which plays host to the Waikiki Shell, an outdoor concert venue. The restaurant is known for its massive Asian-themed art collection and selection of Chinese dumplings which are also known as Dim Sum. Daily lunch specials include items such as roast duck won ton mein and minute chicken choy sum cake noodles. As of January 2011, specials started at $8.75 per plate. Dinners are also served and are generally priced at an average of $12 to $15 per meal.
Tiki's Grill and Bar
Tiki's Grill and Bar is a Tiki-themed bar and grill that sits right on the beach in Waikiki. This is a happening party spot and is popular with guests from cruise ships and other travelers. Locals often frequent the bar for colorful cocktails garnished with fruit and topped with paper umbrellas. Meals at Tiki's Grill and Bar are served all day long and the prices are low in comparison to many of the high-end eateries in the area. As of January 2011, appetizers such as guava-glazed baby back ribs and prime rib poke could be had for $10.