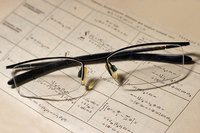 Mathematics professors in four-year colleges and universities usually have PhD degrees. Those who teach in two-year colleges need a master's degree at a minimum, and some have two master's degrees or a PhD even at that level. After completing as much as six years of study after the bachelor's degree, math professors earn more than $70,000 per year on average.
Average Earnings of Math Professors
According to the Bureau of Labor Statistics (BLS), the average annual income for college math professors came to $70,550 in 2009. This annual wage includes math teachers at a variety of post-secondary schools, such as colleges and universities, junior or community colleges and technical schools. The government counted 48,100 total math professors working at all these institutions.
Range of Earnings of Math Professors
Earnings for math professors at the 10th percentile level came to $35,480 per year, while those at the 90th percentile level came to $118,450 per year. This means than 10 percent of math professors earned less than $35,480 per year, and 10 percent earned more than $118,450 per year.
Jobs and Income of Math Professors by Industry
Most post-secondary math professors work at colleges, universities, professional schools and junior colleges, where they receive higher pay than at technical schools. In 2009, 26,790 math professors worked at colleges, universities and professional schools for an average income of $72,320 per year. At the same time, 21,170 worked at junior or two-year colleges, with an average annual income of $68,380. Only 80 math professors in the survey worked at technical or trade schools, with an average income of $51,340.
Highest-Paying Locations for Math Professors
Jobs for math professors in Rhode Island had the highest pay among the states, an average of $97,260 per year, but for only 200 jobs. California had the second highest pay, at an average salary of $91,150 for 5,950 jobs, and New York came third, with $87,280 per year for 2,940 jobs. The highest-paying metropolitan regions included the Riverside-San Bernardino, California, area with average pay of $106,530 per year, and the San Francisco-Redwood City greater area, at $102,170 per year on average.
Jobs Outlook
Applicants with PhD degrees will have the best opportunities for tenure-track positions in post-secondary education, but the BLS expects keen competition for these jobs in the future. As more and more high school graduates apply for college, many opportunities will open up for part-time positions at both four-year and two-year institutions when older teachers take retirement. The BLS predicts job growth for post-secondary teachers in all disciplines at 15 percent from 2008 until 2018. In 2008, nearly 1.7 million professors were teaching in post-secondary institutions.