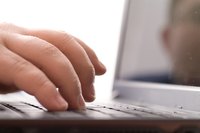 Computer programmers are trained to write computer programs. Many computer programmers have a bachelor's degree in computer science or a related field, and some computer programmers have an associate's degree. Employment opportunities for computer programmers are expected to have an average growth rate of 21 percent between 2008 and 2018, and in 2008, the median annual salary was $85,430, the Bureau of Labor Statistics reports.
Different Responsibilities
Computer programmers are trained in various programming languages, such as C++, XML, Python and Java. Also, many computer programmers are trained to work with database systems, such as Sybase and Oracle. However, they must remain up-to-date on changes in internet and computer technology to maintain a competitive edge. This is largely due to the continuous development of new computer programming languages, and many employers require computer programmers to be able to absorb new programming languages and computer systems. In general, programmers utilize problem-solving skills and analytical skills to design, debug and perform tests of computer programs.
Certification
Some professional organizations, such as software firms and product vendors offer training programs designed to certify computer programmers. Obtaining a certification may not be a requirement for all employers; however, certification as a computer programmer gives individuals an opportunity to demonstrate their expertise in a particular computer programming field.
Internet Programmers
Internet programmers design, build and implement internet applications. Some Internet programmers are also called web developers. Internet programmers are trained in web page creation, java development, HTML programming and computer/user interfacing.
Systems Programmers
Systems programmers write programs and create systems software for an entire computer network system. Their programs may be used as operating systems for large corporations. Operating systems are responsible for controlling the overall computer tasks. Therefore, the system programmers establish the codes that enable the computer operating system to control the hardware, such as terminals and disk drives. Some of the common operating systems are Microsoft Windows, Linux and Mac OS.
Application Programmers
Application programmers may write programs for companies in a variety of business fields, such as accounting or engineering. Application programmers write programs to instruct the computers to perform particular functions, such as sending invoices to customers, designing accounting methods or updating inventory counts.
Tip
Although many computer programming opportunities may not require individuals to have a bachelor's degree in computer science, information systems or a related field, having a bachelor's degree in the field provides individuals with a competitive edge in the industry.