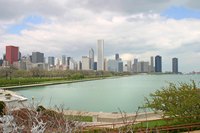 Chicago is full of attractions and sights for the whole family, ranging from the interactive Crown Fountain in Millennium Park to the Shedd Aquarium. Whether your interests are in bringing the kids to the Lincoln Park Zoo or checking out an outdoor concert at the Jay Pritzker Pavilion, you'll surely find it in the Windy City. However, there are also many spectacular attractions within driving distance from Chicago. Visiting nearby states such as Wisconsin or Indiana, or simply heading to another town in Illinois can be a fun way to explore other options, especially for residents or visitors to Chicago.
Indiana Dunes
A short drive from Chicago will bring you to this 15-mile stretch of beach along Lake Michigan. During the summer, pack a swimsuit for some swimming and lounging in the sun on the sandy beaches. The Indiana Dunes are great for a day trip, and you can camp overnight between April and October. During the winter, the dunes provide a good area for cross-country skiing or snowshoeing. Other activities include fishing, boating, hiking and horseback riding.

Lake Geneva, Wisconsin
Lake Geneva is located just across the Illinois state line in southeastern Wisconsin, about 90 minutes' drive from Chicago. Boating or fishing on the lake are options, or you can head to a spa resort for some pampering. Lake Geneva can also make a romantic destination for weddings or honeymoons.

Milwaukee, Wisconsin
In around an hour and a half, you can travel from Chicago to Milwaukee, Wis., to visit a few of its breweries. Milwaukee is home to Pabst Brewery, Sprecher Brewery, MillerCoors and Milwaukee Brewing Co., among others. Sample the beer, check out the brewing process and learn more about the breweries' histories. While you're in town, you can also stop by Harley-Davidson to learn more about the motorcycle company that was founded in Milwaukee, or check out one of the museums or art institutes.
Starved Rock State Park, Illinois
Located in north central Illinois, Starved Rock State Park is a prime getaway spot for families and outdoor enthusiasts. There are 13 miles of trails for hiking and 18 canyons at the park, most of which have waterfalls during the rainy season. In the winter, you can look at the ice falls, go cross-country skiing or go ice climbing. Starved Rock is also a popular fishing area for both people and bald eagles. With binoculars, you may be able to see a few of these magnificent birds, especially during the winter.