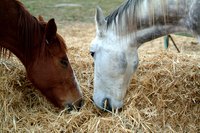 Saving up money to buy a horse in advance is a smart choice, but even after you have purchased a horse you will need money for maintenance expenses, such as feed, veterinary bills, boarding, tack and transportation. Whether you are in the planning stages to acquire your dream horse or raising money to keep your horse fed, sheltered and in good health, there are plenty of options you can try to raise a bit of extra cash.
Fundraisers for Youth
Try putting a nontraditional spin on old ideas such as lawn mowing and babysitting. Offer your services to neighbors such as weeding gardens, painting fences and other household chores. If you are artistic, offer to paint murals or stencil decorative paint trim on their walls for a small fee. Volunteer with a local vet or animal rescue organization to learn the basics of large and small animal care, and then offer your services as a pet sitter using your hands-on training and client references to set you apart from competitors. Do the same for babysitting work by volunteering at a child care center and becoming certified in infant CPR. If you are under 18 years old, check with your school guidance counselor about getting a work permit. These permits make it legal for employers to hire underage workers. Age restrictions and requirements vary by state.
Adult Horse Fundraisers
If you are finally realizing your dream of horse ownership or trying to keep your horse instead of selling him to save on expenses, look to items you already have for additional cash. Sell possessions through local classifieds if you're uncomfortable with online options. Old books, movies, clothing and kitchenware may only be worth small amounts, but every dollar that helps you get and keep your horse will count. You may have enough to purchase a grade (mixed breed) horse and a month's supply of hay just sitting in your attic or basement. Other options include running errands for neighbors for a fee -- just make sure your fuel and car wear and tear expenses are covered -- housesitting while owners are on vacation or home maintenance work. Also, check with your local schools; many schools have open coach, teacher's aide and other non-teacher positions on a temporary basis for adults who are free during daytime and afternoon hours, and these positions may pay a small stipend. You will generally need to submit to a background check and fingerprinting to work with public schools.
Use Your Skills
Nearly any skill can be shared with others, so hire yourself out as a tutor, teacher or expert in your areas of expertise. Your local community college may have openings for teachers for non-degree courses, such as basic computer skills, cooking, dance, art or music training. If your skills are horse-related, you may even be able to reduce your horse-keeping costs by trading labor for reduced expenses, such as cleaning out other people's stalls for feed money or boarding costs. Be aware that there is often strong competition for such roles, however. You may need to look elsewhere for your horse funds.
Considerations
Check with a local tax attorney to make sure you are operating legally in your money-earning endeavors. The Service Corps of Retired Executives (SCORE) offers free business advice throughout the U.S., and its volunteers can help you understand the legal ramifications of starting up your personal business venture as part of your horse funding plan. Generally, you will have to claim your income on your annual tax return, but you may not be responsible for any taxes beyond that, depending on what you do to raise the money and how much money you make.