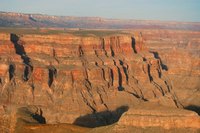 Arizona's diverse geographical landscape is divided into three distinct land areas: the Colorado Plateau, the Transition Zone and the Basin and Ridge Region. These three areas include an array of landforms such as mountains, canyons, plateaus and mesas. Some landforms are more impressive and well-known than others, so travelers should plan their trips accordingly.
The Grand Canyon
Carved by the Colorado River, the Grand Canyon is one of of the most impressive landforms in Arizona. The vast canyon cut into the Colorado Plateau is 277 river miles long, 18 miles across at its widest point and one mile deep.
Monument Valley
Located on the northeastern edge of Arizona near the Utah border, Monument Valley is known for the large number of sandstone mesas, buttes and spires that make up its landscape. Carved through 10 million years of erosion, the remarkable land masses shoot hundreds of feet above from the surrounding flat terrain.
Humphreys Peak
Located near Flagstaff and standing at 12,633 feet above sea level, Humphreys Peak is the highest point in Arizona. Part of the San Francisco Peaks, the mountain range is made up of the extinct remains of an eroded volcano. The mountain area is a protected part of the Coconino National Forest.
Petrified Forest National Park
Located adjacent to the Painted Desert near Holbrook, the Petrified Forest takes visitors back to the time when the area was covered by lush green forests. Preserved by volcanic ash and sediment, the petrified remains of the giant trees are now visible due to years of erosion.
Black Mesa
One of the most stroking features of the Colorado Plateau, the Black Mesa towers 8,000 feet over the grasslands below. Seams of coal run through the mesa, giving the landform its distinct black appearance that stands in stark contrast to the surrounding landscape.
Canyon de Chelly
The petrified sand dunes of Canyon de Chelly in northeast Arizona were formed over 230 million years ago. Thousands of years of erosion have carved many caves and shelters into the landscape. These spaces are of special interest to archaeologists, who have found over 800 archaeological sites within the region, some dating back as far as the fourth century.