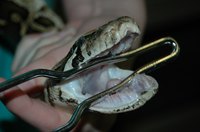 The U.S. Bureau of Labor Statistics does not specifically track earning statistics of veterinary surgeons, probably because all veterinarians are trained as surgeons and retain the skills to do so throughout their careers. As of May 2008, the median 50 percent of veterinarians earn from $61,370 to $104,110, according to the BLS.
Working as a Veterinary Surgeon
Veterinarians who specialize in surgery are expected to excel in all the general skills of veterinary medicine as well as have surgical expertise. The average veterinarian deals with pets but may also encounter expensive livestock or injured wildlife, and may even be asked to treat exotic animals from zoos or other establishments. Veterinary surgeons usually operate on animals within the safe, sterile environment of their private practice. But in an emergency, those who choose to treat livestock are sometimes expected to travel to the animal's location at unusual hours and operate in non-sterile, potentially disease-ridden environments.
Veterinary surgeons have to prepare for all the usual dangers of surgery, such as accidental scalpel cuts and infection, as well as the dangers associated with treating injured animals, such as bites, scratches and bone-breaking kicks from horses and cattle.
Educational Background Required
Aspiring veterinary surgeons must earn a doctor of veterinary medicine degree, awarded upon satisfactory completion of a four-year program at a veterinary school, as well as a state license, the terms of which vary from state to state. To gain admittance to a veterinary school, undergraduate applicants are required to have only 45 to 90 semester hours of credits. However, admittance to these schools is extremely competitive, and an applicant who has completed his undergraduate program and has a bachelor's degree is far more likely to be accepted than an applicant with the bare minimum of entry requirements.
Earnings as a Veterinary Surgeon
The lowest-earning 10 percent of veterinarians earned below $46,610 in May 2008, and the highest-earning 10 percent earned above $143,660, according to the BLS. The lowest-earning veterinary surgeons are likely those just entering the field, fresh out of veterinary school and without a private practice to call their own.
Other Factors Affecting Salaries
Veterinary surgeons who choose to work long and unpredictable hours treating prized livestock or exotic animals on an on-call basis are likely to make better wages than those who choose to treat pets and small animals exclusively. Some veterinary surgeons work directly for the federal government within the Department of Agriculture or the Food and Drug Administration and enjoy greater job security than in some other positions. These veterinarians have a background in food safety, epidemiology or public health, in addition to standard veterinary science training.