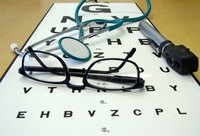 Although many people may not know their optometrist's actual job title, a letter-pyramid eye chart and the circular lens vision mask are instant symbols of the profession. Optometrists do far more than just test vision; they're often the first to notice potential vision problems, such as cataracts, and they also recommend vision aides, such as glasses.
Seeing Clearly
To gain the skills and training required for the optometry field, prospective optometrists attend one of the 22 American Optometric Association-accredited Doctor of Optometry postsecondary education institutions in the United States or Canada (as of January 2011), including the University of Missouri, Western University of Health Sciences College of Optometry, Southern California College of Optometry, The Ohio State University College of Optometry, Pacific University College of Optometry and University of Houston College of Optometry.
Required Courses
For optometrists to help their patients see more clearly, they have to be trained themselves. Candidates for optometry jobs attend programs such as the optometry program at the University of California, Berkeley, which covers training in topics such as visual perception and sensitivity, geometrical optics, anatomy and physiology of the eye, infant vision, systemic pharmacology, ophthalmic optics and environmental vision, binocular vision and space perception, low vision, treatment of posterior segment ocular disease, eye care business, and rehabilitation of sensory anomalies.
Additional Training
Although most of the first half (or in some cases, first two-thirds) of optometry training is done in the classroom, students also learn skills while doing internships, clinics and rounds shadowing experienced optometrists. It is during this patient contact where students pick up the personal skills required for the job, such as comforting scared patients, working in a calm manner to encourage people to allow their eyes to be examined, and keeping a relaxed and easy-to-understand countenance while explaining diseases of the eyes or recommendations for glasses and contact lenses.
The Future Is Bright
The U.S. Bureau of Labor Statistics reports that the average optometrist salary was $106,960 per year, as of its 2009 Occupational Employment and Wages report. The BLS also noted several states paying significantly higher-than-average optometrist salaries, though no specific pattern emerged from their locations. Louisiana topped the nation with optometrist salaries of $142,550 per year. Tennessee earned second place, with $137,220, followed by Kansas, at $129,420, and Washington, at $128,880 annually.