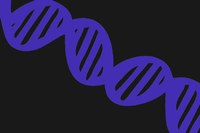 Genetic technologists, also known as cytogenetic technologists, process, analyze and gather genetic specimens in a laboratory setting to treat, diagnosis and prevent various genetic conditions and diseases. According to the Bureau of Labor Statistics, genetic technologists require skills in the areas of active listening, critical thinking, complex problem-solving along with inductive and deductive reasoning. These scientists may investigate the genetic causes of conditions seen in medical fields like pediatrics, obstetrics and hematology.
Definition
Genetic technologists perform microscopic analysis on biological specimens from cell cultures to conduct genetic studies. These specimens may include tissue cultures from amniotic fluid, bone marrow, tumor and peripheral blood samples. Those involved in the field must prepare slides, analyze computer images, culture and harvest specimens and report results to their colleagues. To become a genetic technologist, candidates must receive a bachelor's degree in clinical genetics or cytogenetics. Some members of the field obtain additional education through obtaining master's degrees in genetics, which may give them increased chances of employment and higher salaries. An entry-level genetic technologist can expect to earn a salary of $42,000 to $46,000 a year, according to the Mayo Clinic.
Salary Range
The median salary of a genetic technologist is $54,054 as of January 2011, according to a report conducted by Salary Wizard. The middle 50 percent of professionals in this occupation earned between $46,843 and $61,910. The bottom 10 percent earned less than $40,278 while the top 10 percent earned $69,062. Salary tends to increase for this position based on years of experience, location and qualifications such as education.
Location
While the salary of a genetic technologist is generally equivalent in most major cities in the United States, several cities offer higher salaries than others. For instance, according to a report conducted by Salary Expert, of 10 major U.S. cities polled, Boston and New York had the highest average salaries for genetic technologists -- $66,826 and $65,601, respectively, as of January 2011. The two lowest-paying cities of the 10 surveyed were Indianapolis at $49,718 and Phoenix at $51,196.
Outlook
According to a report compiled by O Net Online, jobs for genetic technologists are expected to grow at an average rate between 7 and 13 percent between 2008 and 2018. This is similar to the growth expected in all positions during the projected decade. The report states that 53,300 jobs are expected to open up during the decade. Those who are most likely to receive employment in the field will have five to 10 years of experience in genetics along with at least a bachelor's degree.