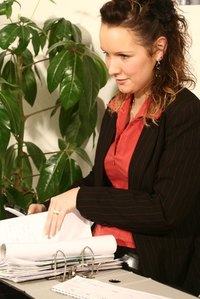 A healthcare administrator is a high-level employee who manages various aspects of a healthcare facility. The largest employer of healthcare administrators is hospitals, but healthcare administrators also work in nursing homes, behavioral health care centers, large doctor's offices and other locations. Being a healthcare administrator is typically a stressful job working to provide both quality services to patients and assuring the financial viability of the facility.
Planning
Healthcare administrators are responsible for the planning of service delivery. Service delivery planning may range from determining staff requirements to opening new departments or closing under-performing ones. Healthcare administrators will work with accounting and billing staff to plan the facility's annual budget and to make needed adjustments when required. Healthcare administrators are often responsible for planning and implementing a facility's response to changes in regulatory rules and billing procedures. Healthcare administrators will also be involved in planning for significant purchases and other spending.
Supervising
Healthcare administrators are responsible for supervising the performance of department managers and the departments as a whole. While the individual managers and human resources department supervises the daily work of the direct-care employees, healthcare administrators hold managers accountable for staff performance and may deal directly with key employees (doctors, therapists, etc.). Healthcare administrators also oversee the implementation of procedural changes in both health service delivery and administrative functions.
Recruitment and Retention
Healthcare administrators are often responsible for assisting with the recruitment and retention of key staff. Because the competition is high for the services of doctors, nurses and other highly skilled personnel, healthcare administrators often take part in recruitment events and the interview process for professional level staff. Many healthcare administrators have backgrounds in clinical care and are able to discuss the work-life requirements for various professional positions within the facility. Healthcare administrators may also work to deal with employee issues on both an individual and group basis to boost staff retention levels.
Other Responsibilities
The primary responsibility of a healthcare administrator may change frequently depending on the immediate needs of a facility. Administrators may work to deal with labor issues, address serious complaints or other issues from various groups, develop implementation processes required to comply with changing regulatory demands and focus on any other issue that reduces the facility's ability to care for patients or produce a profit. Depending on the size of the facility, a healthcare administrator may also be involved in marketing and public relations for the facility. Many healthcare administrators are also clinical staff and may continue to provide services as needed to meet patient demand or maintain licensing.