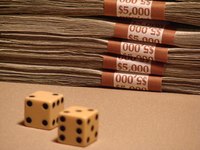 Owning and operating a small business involves earning a profit by taking a series of risks. However there is no direct correlation between profit and risk. It is the nature of risk to involve uncertainty: by risking your resources you open yourself to the possibility of losing them, but you also open yourself to the possibility of profiting by making a shrewd investment.
Risk and Profit
There is some degree of correlation between risk and profit in the sense that, as a small business owner, you make choices that involve exploring opportunities that can potentially earn you a profit. The very act of starting a business is a risk taken for the sake of earning a profit. Even if you are reasonably cautious about how you invest in your business, you have nonetheless chosen to leave behind a job where you earn a consistent amount each week, and put your personal resources at stake without knowing precisely how much you will earn.
Risk and Loss
Just as you might profit by risking resources to start or expand your business, you might also lose money. The more your risk, the more you have the potential to lose because you are investing your resources in an endeavor whose outcome is uncertain, rather than putting the money in the bank where you will be guaranteed a rate of interest. The amount that you risk on new business endeavors should correlate with your level of experience and skill.
Caution and Profit
Just as investing in new endeavors can earn you a profit when you are operating a business, exercizing caution can sometimes earn you a profit as well. If you have established your business by creating a particular product, such as outdoor gear, and your company has reached the stage where it is stable and profitable, you may earn more of a profit by sticking with your current business model than by branching out, risking resources and trying something new.
Caution and Loss
Although caution can be a strategy for maxizing profit if your company has found a formula that works, excessive caution can cause your business to lose money if you fail to keep up with an evolving marketplace. If you own a news outlet and fail to adapt by using new media, you run a substantial risk of losing your share of the market to competitors who are building informative websites and creative strategies for delivering content online. Caution in business can sometimes be a safe and wise strategy, but at other times it is more risky than trying something new.