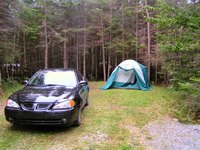 While your camping, using a portable gasoline generators is a great way to be in the great outdoors with all the convenience of being in you're own home. Whether you need a good power source for lights, refrigeration or even heat while out on a camping trip, portable gasoline generators are a great way to keep things up and running. Just make sure you have enough fuel.
The Honda EU3000iS
Honda carries its reputation for car reliability and fuel efficiency over to the generator market. The Honda EU3000iS is highly portable and lightweight, with the capability to power a home furnace or an RV AC unit. It can run for up for up to 20 hrs on 3.4 gals of gas and is outfitted with Honda's inverter technology, which allows it to power power draining electronics like computers.
All Power America APG3014
The All Power America APG3014 runs for up to 9.5 hours of with 50 percent load. Outfitted with a 4-point, 68-decibel engine, the APG3014 is very quiet. The generator also has a pair of highly durable 10-inch wheels and AC and DC outlets that can power anything from a mini-refrigerators to laptops.
Generac 5724
Weighing 101, the Generac 5724 is a mid-sized generator with 3,750-watts operational capacity and a 207CC OHV engine. The Generac 5724 is outfitted with safety features like circuit-breaker outlets to prevent power overloads and the low-tone muffler for quiet operation. The generator also comes with wheel kit, handle and your first oil supply.
Honeywell HW2000i
The Honeywell HW2000i uses inverter technology so that power-draining devices like laptops can maintain voltage consistentcy. With a powerful 4-stroke engine and a small kick of 2,000-watt output, this lightweight generator only weights only weighs 50-pounds. It runs up to 5 hour runs at 50-percent load on a 1.5-gallon fuel tank.
Northstar 8000 TFG
The NorthStar Trifuel Generator is capable of running most electrical devices and small appliances. It can run for up for up to nine Hours at half load. The Trifuel with take multiple fuel types, including gasoline, propane, or natural gas. Although a bit heavy, over 100 lbs, the Trifuel is moderately quiet and has a copper-wound brush-less generator head added for durability.
Briggs & Stratton Elite Series
The Briggs & Stratton OHV Engine runs for up to 13 hours of on 50 percent load. Outfitted with a super silencer muffler that keeps things very quiet and a pair of 10-inch "never flat" wheels, the Elite is a great option for low-noise, lightweight travel. All all five power outlets are covered by durable weather-protected panel so that you can hook up your TV's, laptops and heaters.
Blue Max GEN8000B
Blue Max features a robust 8,000-watt,13-horsepower engine. It runs for up to 11 hours at 50 percent load. It's outfitted with a 120-volts AC output and a recoil start system. Although heavy, weighing over 180 pounds, the Blue Max GEN8000B is relatively quiet and still lightweight enought to travel with.
Coleman PM0435003 Powermate
With 5,000 watts of running power and 6,250 watts of maximum or starting power, the Coleman Powermate Subaru PM0435003 runs for up to 11 hours of run time at 50 percent load on a six-gallon gas tank . Recently remodeled the Coleman is now more quiet and has reduced emissions.
All Power America APG3560
The All Power America APG3560 is a 6000W generator. With safety features like the automatic fuel shut-off safety valve it's no problem monitoring fuel supply while your engine is off. It can run for up for up to eight hours at half load on 5 gallons/20lbs of fuel. It houses two AC 120V outlets, one AC 120V twist lock, one AC 120V/240 twist lock outlet, and one 12V DC.
Eastern Tools TG52T42
The Eastern Tools TG52T42 6000/5250 Watt is capable of running most electrical devices and small appliances. It can run for up for up to 11 hours at 50 percent output capacity. Although a bit heavy, over 100 lbs, the Eastern is quiet and has a stroke air cooled OHV engine with low-oil shut down.