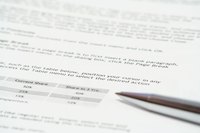 A financial report can be a rather lengthy document that presents a business' truthful financial standing. Also called an annual report, the financial report can easily reach hundreds of pages, especially if the company is large and selling many products or services on a daily basis. To help investors and business executives identify the most important points in the financial report, a summary of the information is usually provided so that key information or figures can easily and quickly be found.
Using the Summary
The summary of the financial report is used by business executives who want to know general information fast. For example, the financial report may break down how much the business has spent on advertising and marketing, during the year, in different types of marketing techniques. The categories may reveal that print marketing, company events, television commercials and Web marketing are part of the marketing expenses, during the year, being discussed in the report. The summary will inform the reader of the total marketing expense, rather than a breakdown of the spending. This information may help executives determine which areas need extra attention.
Summary Readers
Business executives are not the only people who read the financial report summary. People who are curious about the business' financial information may also read the summary to get a brief insight into the situation. Stockholders and investors also read the summary to see if the business is spending its money wisely or how much it is earning. The accounting department and department managers may also use the information to make changes in each department budget to improve the company's overall financial situation.
Summary Features
The financial report summary will have the same letter of address from the company's CEO as the financial report has. The summary will also contain the company's mission statement in case the reader only reads the summary rather than the entire financial report. The summary will also have small graphs that show the company's growth, income and expenses during the single year being discussed. A list of achievements and projects completed within the year will also be included in the summary.
Summary vs. Full Report
One of the only major differences between the financial report summary and the full financial report is the breakdown of spending and earnings. For example, the reader will be able to pinpoint how much the company has spent on print marketing during the year while the summary simply provides a lump sum of marketing expenses.