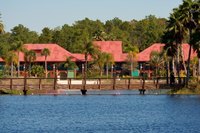 It is difficult to quote an "average" flood insurance rate in the state of Florida due to the fact that there are many variables that play into insurance rates. The latest figures, from 2005, show that the average policy cost $453 per year and provided $176,545 worth of coverage. It is important to note that flood insurance is not a component of standard homeowner's insurance policies and must be purchased separately.
Determination
Homeowners whose communities participate in the National Flood Insurance Program (NFIP) can purchase insurance through participating agents for preferred rates. The NFIP provides affordable flood insurance for members of participating communities and works in conjunction with the Federal Emergency Management Administration (FEMA) to mitigate flood risks in participating communities. In the event of a large flood, FEMA will also provide these communities with disaster relief assistance.
Rates
It is impossible to quote an average insurance rate that is representative of the true cost of flood insurance due to the wide variance in policy rates. The cost of an insurance policy will vary according to a home's flood risk, the value of the home and its contents, the age of the home, the size of the home, etc. Policies range in price from $49 to $5,703 per year.
Flood Zones
A property's flood zone is the most important factor in determining insurance rates. Flood zone is determined by FEMA through an in-depth statistical and hydrological survey that quantifies flood risk. Through this process, FEMA classifies land into three flood zones: high-risk, low-moderate risk and undetermined risk. In the high-risk zone, insurance rates are the highest while rates are much lower in the low-moderate risk zone. In the undetermined risk zone, risk is undetermined because FEMA has not conducted flood surveys; therefore insurance is not provided through the NFIP. Community members who live in an undetermined risk zone and would like to have their property assessed for flood risk are encouraged to petition their local government to participate in the NFIP.
High-Risk Zone
In a high-risk zone, there is a 1 percent chance in a given year that the land will flood. A high-risk zone is further divided into the following sub-categories: standard high-risk and high-risk coastal. High-risk coastal zones are particularly prevalent in Florida. In this region, buildings are at high risk of coastal surge and high winds from hurricanes and tropical storms. The policies in this region are the most expensive, ranging from $163 to $5,903 per annum, depending on the amount of coverage purchased. In standard high-risk zones, policies range from $136 to $2,734 per year, depending on the amount of coverage.
Low-Moderate Risk Zone
Away from the Florida coastline and river flood plains is the low-moderate risk zone. In this zone, in a given year there is a less than 1 percent chance of flooding. Due to the decreased risk, flood insurance rates in this region are much cheaper, ranging from $49 to $1636 per year.