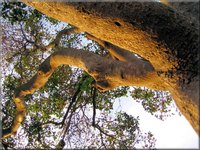 A danger tree is a tree that poses a risk that can be avoided. Insurance companies consider trees to be dangerous if they are dead, diseased beyond recovery or present a clear and present danger to property. A tree is not considered to be a danger just because it is very large or evidences a spreading crown. For example, a healthy leaning tree is not considered dangerous, as the tree will develop larger growth rings opposite the leaning direction to compensate.
Trees With Invasive Roots
The term "danger trees" is ambiguous. It is difficult to define a tree that may cause harm to persons or property. All trees can present a danger if they break, fall or become uprooted during a weather event. Trees with invasive roots may be considered a danger if the root growth is encroaching on a permanent structure. Roots can crack retaining walls or home foundations. Ask your insurance agent to inspect the tree. He may request you take photos or send an inspector to evaluate the treat of present or future damage.
Overhanging Trees
Healthy trees that overhang your property are not considered dangerous unless branches are cracked or dead. If branches or the trunk show evidence of cracking, call a professional tree service company to remove the damaged section. Trimming can protect the health of the tree and remove the limbs that could break and fall on your property.

An Act Of God
Different states have different laws in place that govern the responsibility and obligations of a property owner who has a tree that falls on another person's home or causes damage to life or property. If the tree was dead or visibly damaged and the tree owner took no action to remove the tree, he may be liable for damages resulting from the tree falling. If, however, the tree was in obvious good health and then fell during a storm, the tree owner is unlikely to have to assume responsibility. The falling of a healthy tree that becomes uprooted or succumbs to a storm is considered an "Act of God."
Review Your Insurance Coverage
Different insurance companies have different definitions of what constitutes a danger tree. Read your policy carefully and review your coverage with your insurance agent. Ask your insurance agent for written instructions for you to follow in the event a tree on your property causes damage to your or your neighbor's home. In the event of a storm that causes tree damage, immediately report the event to your insurance agent. Take whatever action is possible to prevent additional damage to the property. Cover the damage with a tarp if possible and call a tree service to remove the fallen tree.