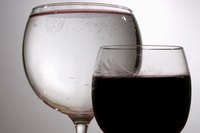 Whether you're a Fayetteville native or just around for a North Carolina visit, you can enjoy a fine dining experience that is both romantic and delicious. With an array of casual and upscale restaurants, Fayetteville is an area with great choices for a quiet, cozy lunch or a candlelit dinner. It doesn't have to be Valentine's Day for you to find some romance and please your palate at the same time.
Hilltop House
The Hilltop House is an upscale restaurant located within a turn-of-the-century home in Fayetteville. With a variety of intimate rooms, couples can find a cozy corner to share a romantic bottle of wine or champagne. The Hilltop's wine list is an impressive 50 pages long.
Serving seafood and traditional American steakhouse fare, the Hilltop's menu includes lobster fondue, signature crab cakes, filet mignon and chicken marsala, along with homemade pasta dishes. The Hilltop House dinner menu entrees range from $20 to $30, as of January 2011.
Luigi's
Few cuisines are as innately romantic as Italian. That's why Luigi's is a great choice for a romantic meal in Fayetteville. Not only has the restaurant and bar earned the Wine Spectator's Award of Excellence for seven years running, but it prides itself on more than 250 varieties of imported and domestic wines.
With a traditional menu that includes Italian favorites such as veal piccata, chicken Alfredo and shrimp parmigiana, Luigi's also includes several traditional steakhouse selections, such as a 14-oz. rack of lamb and New York strip peppercorn steak. With a warm atmosphere and an open patio for more romantic dining experiences, Luigi's offers a dinner feast in the range of $20 to $30 per entree, as of January 2011.
The Fresh Cafe
Romantic dining doesn't have to involve steakhouses, candles and white linen. In fact, Fayetteville's Fresh Cafe offers a variety of organic meals and baked goods using only natural ingredients. With patio and loft seating, you can find a cozy nook in this eclectically-decorated cafe.
Vegetarians and vegans will be pleased with the menu at the Fresh Cafe, which ranges from hummus platters to fresh baked quiche to daily selections of organic soups, stews and bisques. Additionally, the Fresh Cafe offers a variety of organic green salads, including baby spinach and fruit, Cobb and Thai peanut noodle. Prices range from $5 to $15.
The Barn Restaurant
Don't let the name fool you: The Barn Restaurant is a long-established upscale restaurant in Fayetteville. Complete with white tablecloths and low-hanging chandeliers, the Barn offers a romantic ambiance for lunch or dinner.
Featuring an extensive wine list along with imported and domestic beers, the Barn also features a menu including filet oscar, lobster bisque, hot rolls and stuffed potatoes. For an added romantic touch, you can opt to sit close to the dining room's fireplace. Entrees range from $15 to $30.