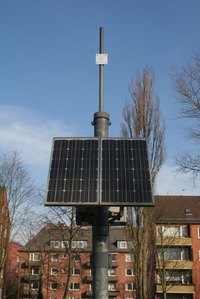 Alternative energy is a high-growth sector, adding jobs at twice the rate of any other sector in the United States. Engineers working in alternative energy are also in demand because the nation's increased efforts to develop clean energy outstrips the available talent pool. Even for new graduates entering the market, alternative energy engineers have bright job prospects and above-average salaries.
Work Sectors
Alternative energy engineers work across many energy sectors and in various job functions. They hold mechanical, chemical, electrical and other engineering jobs. Engineers may also work as project managers and or implement technologies that reduce energy consumption in manufacturing or distribution. Alternative energy engineers work in both the private and the public sector.
Worldwide Salaries
The 2009 Carbon Salary Survey conducted by Acre Resources, Acona and Thomson-Reuters shows that the average salary worldwide for alternative energy engineers was $61,000. This put engineers at the bottom of the ranks of salaries for all segments of the fields that comprise the carbon sector or jobs in energy. The average salary for the carbon sector was $79,000, with the highest-paid workers in legal services earning an average of $135,000 annually.
Regional Salaries
Energy engineers in the U.S. fare better than their European counterparts. The average alternative engineering salary in North America was $85,000. In the Europe, salaries for the United Kingdom averaged $68,000 while the rest of Europe lagged behind at $63,000.
Specializations
Within the alternative energy sector, the environmental engineering specialization has the highest expected job growth through 2018, according to the U.S. Department of Labor. The expected 31 percent increase in jobs for environmental engineers is higher than all other specializations except biomedical engineering. As of 2008, the median salary for environmental engineers in the U.S. was $74,000. Salaries for this specialization ranged from $45,000 for the lowest 10 percent to $115,000 for the top 10 percent, based on experience and job function.
Education
A 2009 survey by the Association of Energy Engineers reveals that 87 percent of the respondents had an undergraduate degree and 39 percent had completed postgraduate engineering degrees. In addition, 79 percent of alternative energy engineers have qualified for industry certification directly related to alternative energy specializations. Some commonly held certifications were green building, carbon reduction, sustainable development and cogeneration.