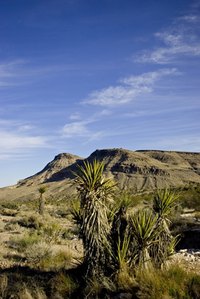 The Mojave Desert extends through California, Nevada, Utah and Arizona, for more than 25,000 square miles. It contains a series of mountain ranges and broad valleys with little vegetation except the Joshua tree, which grows on higher elevations. With landforms such as high mesas, plateaus and flat landscape, this desert has some unique features.
Tehachapi Mountains
Tehachapi Mountain range lies in southern California, extending approximately 40 miles. The mountains reach an altitude of around 8,000 feet with the Tehachapi pass at 4,000 feet, standing between the San Joaquin Valley and the Mojave desert.
San Gabriel Mountains
The San Gabriel Mountains lie between Los Angeles and the Mojave desert. Its highest peak is Mount San Antonia at 10,064 feet with an astronomical observatory at Mount Wilson.
San Bernadino Mountains
Running north and south of San Bernadino in California, the mountains run approximately 60 miles along the southern edge of the Mojave. The highest peak, San Gorgonio Mountain rises to an elevation of 11,499 feet, with the lowest, Dobbs Peak, at 10,459 feet.
Cajon Pass
At an elevation of 3,777 feet, the Cajon Pass lies between the San Bernadino and San Gabriel Mountains.
San Gorginio Pass
Cutting between the San Bernadino and San Jacinto Mountains, the San Gorgino Pass has deep sides rising to almost 9,000 feet.
Trona Pinnacles
The Trona Pinnacles were formed underwater from 10,000 to 100,000 years ago, in the bottom of a dry glacial lake. There are more than 500 pinnacles in the western Mojave desert, some as high as 140 feet, differing in shape and size, from short and squat to tall and thin.
Afton Canyon
Afton Canyon was formed by the rapid draining of an ancient lake, and is one of the few places where the Mojave River flows above ground attracting birds and wildlife. It is a designated Area of Critical Environmental Concern, to protect plant and wildlife habitat.
Mojave Rainbow Basin
Rainbow Canyon with its colorful weathered sandstone was once home to many prehistoric creatures. An interesting feature is the Barstow Syncline, a curving fold in the rocks thought to be formed by ancient extensional forces of mountains being pulled apart.
Amboy Crater
Once a volcano, the crater remains 6,000 years later. The lava cone rises above a lava field, behind which lava lakes have formed, looking like small dry lakes.