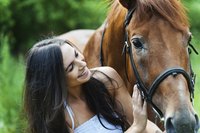 A horse's hip and stifle are important for his daily mobility. Hips are the drive and power area of the horse, while the stifle is the horse's largest and most complex joint. When injuries like these occur, they not only causes pain to the animal but they also limit maneuverability. Correctly exercising your horse's injured hip and stifle with stretches and gentle movements can restore strength, coordination and mobility.
Educating Horse Owners About Movement
Equestrian expert Jennifer H. Brooks of Equine Rehabilitation Services states that educating horse owners is key to the rehabilitation process. The first thing horse owners need to understand is that an injured horse ultimately needs movement, or the injury could become worse. The horse should frequently move, otherwise he will opt to rest his injured hip or stifle. A large pasture with minimal hills would be an ideal exercise area.
Stretching Exercise Techniques
Stretching your horse may be a two-person job depending on the horse's size and weight, but it is another key element to add to your horse's daily exercise routine. Let a veterinary professional assess your horse to determine his flexibility and give instructions on the correct stretching techniques you can use for your horse's particular injury. Among the stretching techniques that are common for a horse hip and stifle injury are high flexion, protraction, retraction and adduction.
Strengthening with Isometric Exercise
Isometric exercise is a type of muscle- and strength-training that targets a horse's injured areas. Isometric exercise requires tightening or contracting of muscles without movement of the horse's limbs. One exercise is the lateral tail pull. It involves standing at the side of your horse, holding onto the middle part of the tail firmly, and then gently pulling the horse's pelvis over the injured stifle area. Brooks advises holding isometric exercises for a minimum of six seconds to ensure they are effective.
Additional Physical Therapy Exercises
Another exercise to consider for strengthening a horse's injured hip or stifle joint is the single-leg-standing exercise. Pick up the horse's uninjured opposite leg to force the horse to put his full weight on his injured leg. Other techniques for helping an injured equine to strengthen his muscles and joints include hand-walking the horse up and down slightly inclined hills, and walking the horse slowly through various surfaces and terrains such as sand, gravel, water and snow.