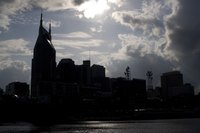 Nashville, Tennessee, is the state's capital, well known for its country music and entertainment scene. With its picturesque southern architecture interspersed with modern skyscrapers along the Cumberland River, the city houses a wide range of visually interesting locations. Visit the area with your camera and you're sure to run into a number of great places to photograph around Nashville.
Sports Photography
Sports photographers wanting to hone their skills will find a number of places in Nashville to take great photographs. The city is home to the Tennessee Titans of the NFL, the Nashville Predators of the NHL, the Music City Stars of the American Basketball Association, the Nashville Metros soccer team and the Nashville Sounds minor league baseball team. Purchase a ticket to any one of these games and photograph the action. Documenting the stadiums such as LP Field where the Titans play can also provide interesting subjects.
Historic Mansions
Nashville is home to a number of historic mansions open to the public. Head there in the spring when flowers are at their peaks for a beautiful outdoor photography opportunity. Belle Meade Plantation was built in 1853 and has 30 acres of landscaped grounds for visitors to stroll through. Two Rivers Mansion is owned by the city of Nashville and encompasses 1100 acres, listed on the National Register of Historic Places. Head inside to the mansions as well to photograph the distinctive architectural details.
Natural Settings
While Nashville is a large urban area, there are plenty of places to get out in nature to photograph the elements. Centennial Park features a colorful tulip display each spring. It also features a full-scale model of the Parthenon, which provides an interesting photographic subject. Radnor Lake State Natural Area is home to several wooded trails, several of which provide scenic views of Radnor Lake. You may also get lucky and spot a whitetail deer, owl or snake to take pictures of.
Musical Sites
No trip to Nashville would be complete without a trip to photograph one of the many music-related attractions in the city. Visit the Grand Old Opry and take a tour where you can photograph the stage setup, theater and backstage area. Visit the Music City Walk of Fame along the Music Mile and document the stars commemorated there. The Historic RCA Studio B was once home to Elvis Presley, Dolly Parton and Chet Atkins. Document the place where over 35,000 songs were recorded by taking pictures.