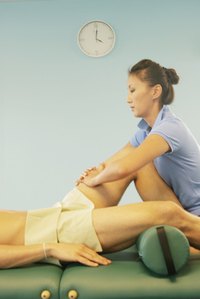 Physical therapists guide clients through exercises that reduce pain, improve mobility or flexibility and lessen physical disabilities. Like other professionals who work in health care, physical therapists have to be licensed in the state in which they work. This ensures that the physical therapist is properly educated in physical therapy techniques and theory, and that clients will be treated in a safe and effective manner.
General Physical Therapy License
Physical therapists need a minimum of a general physical therapy license provided by their state licensing board. This license indicates that the physical therapist has completed a physical therapy program. A second requirement for the general physical therapy license is passing the National Physical Therapy Examination.
Licensing Education Requirements
To work as a physical therapist, you have to have a post-graduate degree from a program accredited by the American Physical Therapy Association Commission on Accreditation in Physical Therapy Education. You can get a Doctor of Physical Therapy (DPT) degree, or you can get a Master of Physical Therapy (MPT) or Master of Science in Physical Therapy (MSPT) degree. It usually takes 2 years to complete a physical therapy master's program and three years to finish a doctoral program. Coursework covers topics like biomechanics, biology/anatomy, physiology, exercise physiology, cellular histology, kinesiology, neuroscience, pathology and pharmacology; about a fifth of the work is clinical practice study.
The National Physical Therapy Examination
The National Physical Therapy Examination is a written test, usually computer administered, that tests your understanding of physical therapy practice. There are 300 separate testing centers across the United States that offer the exam. Developed by the Federation of State Boards of Physical Therapy, the test is 250 questions. You need a score of approximately 600 to pass. Normally, people take the NPTE upon completing their physical therapy degree.
Other Licenses
Physical therapists may need other licenses aside from their general physical therapy licenses in order to practice as desired. For example, they may need a business license from their state registration agency (usually the Secretary of State) if they choose self-employment. They also may need a reseller's license if they sell products like crutches or braces through their office. Other licenses relate to local zoning regulations and may apply if the physical therapist wishes to renovate office space or build an entirely new facility. If a physical therapist completes additional coursework for other types of therapy that may improve her work (e.g. massage therapy), she may get licenses in those areas. Most of the time, however, the general physical therapist license is sufficient.