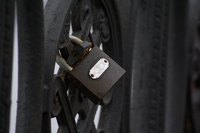 Although Florida landlords with good cause for eviction are required to issue a three-day notice for "payment or possession" to their tenants, the law on home foreclosures is different. Lenders who are foreclosing for nonpayment of a mortgage loan must follow a very different procedure, which is governed by a different timeline and notice requirements.
Summons and Complaint
In Florida, there is no provision for a specific period of time or grace period for eviction. The process is governed by a civil court case, in which the borrower is the defendant and the lender is the plaintiff. The first step in the process if the filing of a summons and complaint by the lender, who must have already issued a Notice of Default and delivered it to the borrower.
Foreclosure Sale
If the borrower does not respond, the court issues a Notice of Default. A hearing takes place on a petition for summary judgment by the plaintiff; if this petition is granted, the lender can proceed with a sale of the property at foreclosure. If the borrower does respond to the summons and appears in court, yet still the court finds in favor of the lender, then the foreclosure sale may also proceed.
Writ of Possession
Ten days after the foreclosure sale takes place, the court will issue a certified copy of the property title to the buyer. The new owner of the property is responsible for petitioning for a writ of possession, which can be done immediately. Once the court issues the writ, the owner can ask the sheriff's department to evict the previous owner of the home. Normally, the sheriff will post the writ of possession on the property, which may, but does not have to, give the residents a deadline to vacate. The sheriff then returns to execute the writ and, if necessary, evict the residents. There is no deadline for this eviction process, nor is there any other form of prior notice to the resident required.
Avoiding Eviction
Residents may be able to avoid the eviction procedure even after the title has been issued, by making arrangements to pay rent to the new owner -- who, in many cases, is the lender -- or otherwise curing the defaulted loan with the lender. Filing for bankruptcy and requesting a stay of the process must be done before the certified title is issued to the new owner.