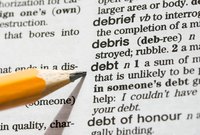 Just about anyone who has been online has seen at least a couple of online advertisements for debt secrets the credit card companies and debt consolidation agencies don't want you to know about. Usually, these ads ask for money to reveal the secrets to you, but there are certain actions you can take to help control debt without spending much money.
Consolidation
If you check with some debt consolidation companies, they'll attempt to get you to take out a debt consolidation loan. That way, you can pay off your debts with the loan and then only have one monthly payment to contend with. However, since you're already in debt, the only loans that you'll get will usually be for a higher interest rate and for a longer period of time. This way, it might seem as if you're actually reducing your debt but when you factor in the increased interest and increased time payments, you could end up paying more.
Reduced Payments
Rather than having a third party deal with creditors, you can take control yourself and initiate a payment plan that contains reduced payment amounts or lower rates. The people who deal with credit card companies on your behalf are not necessarily more qualified than you are. In fact, creditors might be more willing to deal with you, since the debt consolidation agencies charge the credit card companies a fee—while at the same time, they also charge you a fee.
Universal Default Clause
Credit card companies don't want you to know about the Universal Default Clause (UDC). Under this clause, if you wind up defaulting on another credit card, a card that has a UDC attached to it can raise its own interest rates on you. For example, if you default on your Visa card, MasterCard can actually raise its interest rates on you, even if you have never once made a late payment to MasterCard. When you get a new credit card, check to see if there is a Universal Default Clause attached, and if there is, you might reconsider whether or not you want to keep that card.
Debt Validation
If you owe money and have a debt collection agency seeking payment, you are entitled to request a debt validation to show exactly how much you owe under the terms of the original contract. Legally, you are only bound by the terms of the original contract, but there are times when a debt is sold and a collection agency will add charges of its own to the amount that you owe. By requesting debt validation from the original contract, you will be certain to only pay the amount that you owe. In addition, if the collection agency cannot provide proof of the original debt, you are not obligated to pay that debt and all attempts to collect it must cease. However, you have to ask for debt validation within 30 days of receiving your first notification that a collection attempt is being made.