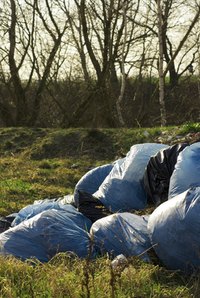 People interested in an environmental career have many options from which to choose. Environmental jobs can deal with protecting the environment, solving pollution problems, landscaping in such a way that natural resources are preserved, and predicting the weather to determine long-term trends like global warming. Most careers dealing with environmental science require at least a four-year college degree.
Environmental Scientist
Environmental scientists are problem solvers. They examine environmental problems such as air, water and soil pollution and advise others about cleaning up unsafe materials. Some environmental scientists specialize in environmental chemistry to offer information about harmful chemicals in the environment, while environmental biologists deal with the protection of plants and animals. Another career path an environmental scientist might take is to contribute to laws for environmental protection. The job may entail travel to field sites and physical activities like digging up soil samples and obtaining chips of rocks. They may also be called upon to write up reports and obtain funding. A college degree with a background in scientific topics such as earth science and geography is required. Many go on to earn advanced degrees in the field.
Landscape Architect
Landscape architects work with environmental scientists to beautify outdoor spaces while conserving and restoring natural resources. They determine areas that are sunny at particular times of the day, and at different times of the year. Before coming up with a landscape design, they keep in mind the purpose of the project and take into consideration such elements as soil type, geographical details like hills, weather and the availability of a water supply. They then think of plants that thrive under those conditions, and draw up a plan using Computer Aided Design systems. Geographic Information Systems can indicate where a particular shrub should be planted. They may be called upon to write reports, produce a video simulation of the results and estimate costs. Many states require landscape architects to be licensed. The average wages for landscape architects was $64,000 in 2008, according to the Bureau of Labor Statistics.
Atmospheric Scientist
Atmospheric scientists study characteristics of the atmosphere and how they affect us on earth. Information gathered about climate trends can be applied to the control of air pollution, global warming, droughts and ozone layer depletion. Atmospheric scientists can also provide information to promote agriculture, forestry and transportation on the high seas. Some atmospheric scientists are operation meteorologists who produce weather forecasts using computer models based on such elements as air pressure and wind velocity using innovative technology like Doppler radar and satellite monitoring. Environmental meteorologists report on air quality and produce environmental impact statements. The median wage for atmospheric scientists was $84,710 in 2009, according to the BLS.
Conservation Scientist
Conservation scientists can specialize in such areas as wildlife conservation, water conservation, forestry and soil conservation. They manage the use of land that supplies a habitat for wildlife, wood products, water, livestock forage material and minerals. Foresters manage the use and development of forested areas by balancing the conservation of ecosystems with the use of forests for recreation and commercial development. They may work with governmental agencies and private landowners. Almost 70 percent of conservation scientists and foresters work for the government at some level. Jobs may entail outdoor physical activity. A bachelor's degree in a related field is typically required for most positions and many earn doctoral degrees if they wish to conduct research. The median wage was $60,160 in 2009, according to the BLS.