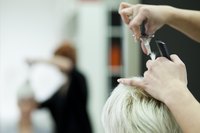 Cosmetology internship programs are a transitional period for students to hone their skills while remaining under the supervision of licensed cosmetologists. As an intern, you will work in salons and shops providing hair, makeup and other personal appearance services for customers before you take your state licensing exam. Often interns cannot perform any services without receiving direction from their supervisor. Internships are not a requirement for most cosmetology schools but can help improve your chances of employment after graduation.
Requirements
The requirements for acceptance in an internship program vary but can include 1,300 hours of classroom instruction with acceptable attendance levels and grades. A good internship will offer you the experience you need for your skills and teach you new skills in a real world setting. If the school you attend requires that you perform an internship prior to graduation, it will have its own requirements and list of acceptable salons where you can intern. Depending on the salon, you will have to provide your own tools such as a hairdryer, combs and scissors for your internship.
Length of Program
Internship programs can account for up to 10 percent of the total training time required to obtain your license. Some schools have strict rules regarding the amount of time a week that you can intern if you are taking classes during your internship, such as not working on the days you have classes and limiting the number of days you can work.
Internship Pay
Some states have laws preventing salons from paying interns and the school you choose may have its own rules preventing pay even if your state allows payment. Even if you cannot receive pay for your internship, you may be able to accept gratuities from customers. Fully licensed cosmetologists had an average median wage of $27,530 in 2013, according to the U.S. Bureau of Labor Statistics.
Benefits of Internship
Employers, students and the school itself benefit from internship programs. Employers receive highly qualified applicants that will help their business grow. You are able to work on your interpersonal skills with customers and schools benefit by having partnerships with the salons in their area. These partnerships allow the schools to have a better awareness of the current trends and techniques in the cosmetology field.