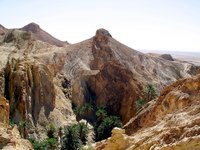 Desert conditions vary according to their location, but there is one common feature among all; deserts are dry lands. Some are extremely hot, but others can reach temperatures of below freezing. Many people think that deserts are uninhabitable and baron, but they are home to 1 billion people, according to "National Geographic." Many plants and animals have adapted to survive in the harsh conditions.
Temperature
Deserts are commonly thought of as extremely hot places, but that isn't true of them all. The Gobi desert in Mongolia is hot during summer, but in winter, it's one of the coldest deserts in the world. On the other hand, the African Sahara desert is extremely hot and can reach temperatures of 122 degrees Fahrenheit. Deserts are at their hottest during the day, and many animals only come out during the cooler nights.
Weather
The most common desert weather is sun and a clear sky. Sporadic rain storms occur in some deserts, and they can trigger flash floods that sweep through the landscape. In colder deserts, frost and snow is common in winter and at night.
Water
Deserts are dry places. They frequently lose moisture because it evaporates too quickly in the heat. To be classified as a desert, they have to receive less than 10 inches of rain per year. Some plants have adapted to these dry conditions by growing long roots to reach the water that is stored deep down below the surface. Some people who populate the desert have dug wells and connected underground streams to direct the vital water to their villages.
Terrain
Sand and rocks form the terrain of most deserts. Snow can fall in the coldest ones, and during winter the ground can frost over. Sand dunes are often associated with deserts, but these are only found in 10 percent of them. More common features are mountains and large rocks.